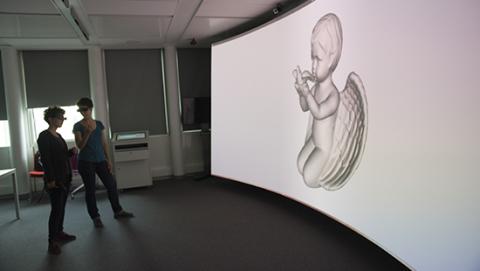 Multidisciplinary thematic institutes
The deepening of knowledge broadens its horizons and ensures it is brought together in interdisciplinary research. Far from making a distinction between classical and disciplinary or contemporary and interdisciplinary research, Sorbonne University has learned that a successful interdisciplinary approach results in an innovative discipline. Thus, for the challenges facing today's society that do not fall within the remit of any particular science, Sorbonne University has set up various institutes.
The Sorbonne University Alliance brings together six higher education and research institutions covering all disciplinary fields of arts, humanities, medicine, science and engineering, technology and management. Its members' diversity promotes a comprehensive approach to teaching and research. It promotes access to knowledge for all and develops numerous joint programmes and projects in lifelong learning in all disciplines, in research and innovation, and in the exploitation and dissemination of their results. 
The Sorbonne University Alliance currently boasts six multidisciplinary thematic institutes. The mission of these institutes, which bring together several institutions, is to make several disciplines work together, breaking down traditional divisions between disciplines and thus giving researchers from different backgrounds the opportunity to compare their knowledge and experience. 

The institutes are financed partly by the Idex (the French Excellence Initiative) and partly by external project funding (ANR, European Commission, industrial partners, etc.).
Institutes
SCAI, the Sorbonne Center for Artificial Intelligence, brings together a strategic range of modern artificial intelligence disciplines in a unique location in the heart of the Latin Quarter.

SCAI's ambition is to make a significant contribution to the excellence of interdisciplinary research and education in artificial intelligence by promoting exchanges between researchers, academics, students and industrialists.
Its aim is to showcase the Sorbonne University Alliance's know-how in the field of artificial intelligence and to be a gateway for academic and industrial partners.

This project is supported by numerous academic researchers from the three faculties of Sorbonne University and the institutions of the Sorbonne University Alliance, who have been mobilised to ensure its success.

Manager: Gérard Biau
The Collegium Musicæ is an institute that brings together musicians, researchers and academics around the creation, research, conservation and practice of music.

It provides a unifying, fertile space, conducive to innovative projects combining humanities, social sciences and exact sciences.
It enhances synergies between research, musical creation, education, heritage and musical practice and thus allows a cross-discipline approach to music.
Manager: Benoît Fabre
The Institute of Computing and Data Sciences (ISCD) is a research, expertise and educational centre in scientific computing, based on high-performance computing and visualisation resources.

Dedicated to research activities in digital simulation, it is a structure hosting multidisciplinary teams of the Sorbonne University Alliance who are engaged in a collaborative project in scientific computing.

Its mission and objectives are to accompany, support, structure and stimulate projects from the community of researchers, engineers and students of the
Sorbonne University Alliance involved in scientific computing and simulation.

Manager: Pascal Frey
The mission of the University Institute for Health Engineering (IUIS) is to encourage educational, scientific and technological innovation in health by providing a structure to host multidisciplinary teams grouped around three themes to be approached in an interactive way: engineering, health, humanities and social sciences. 

The IUIS thus makes it possible to federate, coordinate and develop education, research and development, innovation and transfer activities on a larger scale.

Management: Pierre Mozer - Marie-Autre Vitrani 
The Sorbonne University Institute for Environmental Transition (SU-ITE) aims to create innovative education and research dynamics in major issues of the environment, sustainable development and the construction of a post-COP 21 society.

To this end, it relies on its ability to implement interdisciplinary and inter-sectoral approaches to contribute to the environmental transition of societies. It encourages interactions between research and education teams and the stakeholders of society (political, economic, social).

The Institute's work in education and research is structured around three main scientific areas: controlling climate change and its consequences, creating the conditions for responsible and sustainable use of resources and energies, and governing biodiversity and drawing inspiration from nature.
Manager: Luc Abbadie
The Heritage Observatory (OPUS) promotes a broad, innovative and operational field through a synergy of scientific, pedagogical and heritage resources of the Sorbonne University Alliance. The Observatory, using different approaches and tools, links objects, specialities, temporalities, to the concept of heritage (cultural and natural).

The complementary nature of the Sorbonne University Alliance's scientific expertise in these heritage issues, as well as the extraordinary range of expertise and technical resources available to it, is a major asset in terms of research, the dissemination of knowledge, and the management, conservation and promotion of collections. 

It has identified four main areas of research: to deal with heritage objects in all their diversity; to cultivate an interdisciplinary approach, to keep an active watch on the evolution of the concept of heritage and the phenomena of the preservation of heritage; and to affirm the social usefulness of the Alliance's work.

Manager: Nathalie Ginoux
Un institut interdisciplinaire pour relever les grands défis scientifiques, industriels et sociétaux de la science des matériaux.
Les matériaux sont au cœur de secteurs importants de l'économie et omniprésents dans la société. L'institut de sciences des matériaux de Sorbonne Université encourage l'innovation, l'interdisciplinarité et la recherche fondamentale et appliquée sur les matériaux pour aider à répondre aux grands enjeux sociétaux et économiques. 
L'Alliance Sorbonne Université réunit des acteurs majeurs dans le domaine des matériaux. Les missions de l'Institut consistent à renforcer leurs collaborations en soutenant des projets de recherche ambitieux, en favorisant de nouvelles actions de formations interdisciplinaires et en développant des échanges internationaux avec les milieux académiques et industriels, participant ainsi activement au rayonnement international de l'Alliance.
Le champ d'action de l'Institut couvre la recherche actuelle et prospective en science des matériaux, à l'interface de plusieurs disciplines : chimie, physique, sciences de la terre et ingénierie. Dans le domaine de l'énergie et du développement durable les thèmes peuvent englober la production et stockage d'énergie ou le cycle de vie de matériaux. La synthèse bio-assistée, optimisée ou ciblée pour des propriétés spécifiques et la fonctionnalisation de surfaces sont des exemples pertinents pour les domaines industriels et de la santé. L'institut s'intéresse également aux nouvelles propriétés fondamentales des matériaux hybrides, fonctionnels, ou à dimensionnalités réduites et aux dispositifs qui peuvent en émerger. Enfin, les développements en ingénierie des matériaux et de techniques et méthodes d'études innovantes constituent naturellement des thématiques de l'institut.
Direction : Abhay Shukla
Direction : François Lallier, Olivier Chahine, Sylvie Dufour

Direction : Nicolas Treps