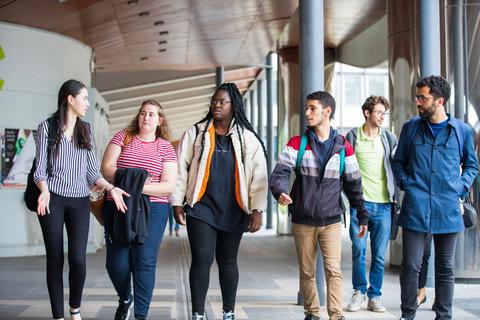 Exchange Students
International students can attend classes anywhere from a two-week visit to the completion of an international degree. Each faculty has an international relations department to provide support to all international students, including application procedures, anticipating living costs, housing, and a host of other aspects of living and studying in Paris.
Application & Admission
Exchange students join Sorbonne University within the framework of an exchange program. During an exchange the students are registered at their home university. The Erasmus+ coordinator at the student's home university selects and nominates the student to Sorbonne University. 
For information on the courses you can choose, please consult your Erasmus+ coordinator with whom you will have to prepare your learning agreement. Your choice of courses has to be validated by your Erasmus + coordinator. 

However, you will have to show that you have a sufficient level in French, (written and oral). Most of the courses at Sorbonne University are held in French. We therefore strongly recommend that you consolidate your French language skills before your stay at Sorbonne University.
 
Application Deadlines and Procedure (please verify the current deadlines in light of the current pandemic)
DEADLINES FOR APPLICATION
Application file
The application file is now to be completed online. The link is sent by the coordinators of our Erasmus office after your appointment with your Erasmus + coordinator at your home university.

When you have completed the online application, you must send your completed Erasmus + form and the 5 documents requested by email to lettres-erasmus-inri@sorbonne-universite.fr

Additional documents

Documents to upload with the application form:
-    Photocopy of your ID
-    Photocopy of the student card or certificate of registration of your home university
-    Photocopy of the European Health Insurance Card valid for the entire duration of the Erasmus stay (If you have private insurance, you must provide a voucher in English or French)
-    French language level certificate (B2 minimum): official test such as DALF, DELF, TCF, Alliance Française, OLS results or official language level certificate from a teacher or a French language training institute
-    A colored ID photo, 3.5 cm wide and 4.5 com high

Contact Erasmus +:
Tel:  (+33) 1 40 46 47 79
lettres-erasmus-inri@sorbonne-universite.fr
The Erasmus + "Entrants" office is located in Sorbonne, staircase I, 1st floor, left door, office F-663
Opening time:
Monday, Wednesday, Friday: from 9h to 12h
Tuesday and Thursday: 9h-12h and 14h-16h
 
DEADLINES FOR APPLICATION
Application file
Download your application file, have it signed by your home university and send it to Sorbonne University, along with mandatory additional documents.
Sciences (214 KB) to be sent to Isabelle Levisalles
Additional documents:
A letter of motivation in French (or in English)
A Curriculum vitae in French (or in English)
Your last transcripts of records
For internships at Sorbonne University and the Erasmus students in Biology only: A letter of acceptance from the lab that will welcome you, with the exact dates of your internship
Postal address to send your application file:
For applications in sciences, biology and psychomotricity:
Contact: 
Sorbonne University
Faculty of Science & Engineering
Bureau mobilité case 604 
4 place Jussieu
75252 Paris cedex 05
France
Please note, if you are a student from a non-European country, you must apply for a student visa several weeks before your arrival in France within the French consulates or the EEF – "Etudes en France" - depending on the country. The visa type D is required for any stay exceeding 3 months. It allows to obtain, as soon as you arrive in France the student residence card. Please contact your Erasmus + coordinator at your home university.