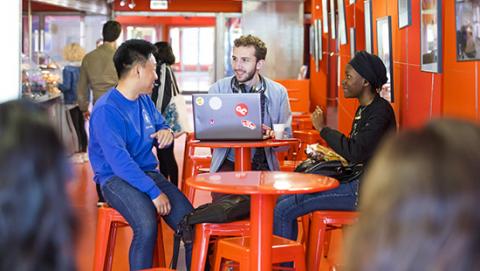 Student Life and Cultural Spaces
 Services dedicated to student life to liven up campuses and support you in your projects.
Faculty of Arts
Relaxation areas, information, games and reading are offered on the faculty campuses. You can also borrow equipment, board games and book a slot for video games.
Student life space - Campus Clignancourt Level -1 library side 
Cafeteria, kiosk, community hall (room 116) - Malesherbes Campus Entrance hall, ground floor and 1st floor 
Institute of Art and Archaeology - Associative Life Room Michelet Hall Centre DRC
Espace Champollion - Rue de la Sorbonne
Faculty of Science and Engineering
A 1,000 m² student life area is entirely reserved for you. 
You'll find: 
a welcome point dedicated to student life 
relaxation areas, music, news, games, reading (comics, manga, newspapers, magazines)
an outdoor terrace
two table football tables and a giant touch screen.
You can also :
borrow musical instruments, board games, even calculators and gowns if you have forgotten yours.
book equipped co-working and meeting rooms 
recharge your mobile phone or tablet using self-service kiosks 
use the 70 m² multipurpose room equipped with a sound system, screen and video projector for your student association and/or personal projects.
Your Student Life Area also hosts many events: concerts, cafés-debates, music competitions, exhibitions, video game tournaments.
Student Life Space Pierre and Marie Curie Campus, Patio 23/34
Monday to Friday from 9h to 21h and Saturday from 12h to 18h. 
01 44 27 60 60 - Email
The Foyer
The Foyer, run by Sorbonne University student associations, is at your disposal for lunch. Associations can reserve the Foyer from 11am to 2pm and in the evening, to host events.
Foyer Campus Pierre and Marie Curie, Rotunda 53
Monday to Friday from 12h to 14h.
The Arts and Culture Space
This place dedicated to creativity and artistic projects has four rooms for artistic practices open to all subject to booking (music, theatre, dance, plastic arts), a music studio for group rehearsals and recordings and a video studio with its editing desk.
Pierre and Marie Curie Campus Barre 33-43, Saint-Bernard Level 
01 44 27 60 60 - Email 
La Passerelle, cultural gallery
A space for creativity, innovation and encounters around the dissemination of the arts, La Passerelle promotes the artistic work of students, emerging artists and established artists through an annual program.
Pierre and Marie Curie Campus, Tower 23/24