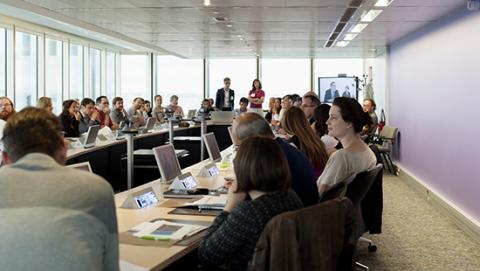 Central Councils
The University is administered by the President and the central councils.
The Councils are composed of two distinct bodies: the Board of Directors (BOD) and the Academic Council (ACC).

The latter consists of two commissions: the research commission and the commission on education and student life.

The central councils are composed of elected representatives of teaching staff, administrative staff, students and outside representatives. The student members are renewed every two years, and other representatives are renewed every four years.
The Board of Directors
It elects the president of the University for four years. Approval of the Strategic Plan, the annual report, the social report, but also votes on the budget: the prerogatives of the Board of Directors are numerous and decisive with regard to the management of the establishment. The Board of Directors is convened at least four times a year.
The Academic Council
The Academic Council, in plenary session, is an advisory body. Its remit covers the orientation of research and education policies, the institutional contract, the definition of teaching and research positions, as well as issues related to student life. The Academic Council sets up the Disciplinary Section from among its members.

The Committee on Education and University Life is consulted on educational policy and allocates the envelope of resources intended for education as allocated by the Board of Directors. It deals with questions relating to academics and the living and study conditions of students.

The Research Committee is consulted on research policy goals and shall allocate the research-funding envelope as allocated by the Board of Directors.

The members of the Board of Directors and the Academic Council of Sorbonne University were elected on 14 and 15 November 2017 for a 4-year term.
> Consult the list of elected officials on the Regulatory Acts website