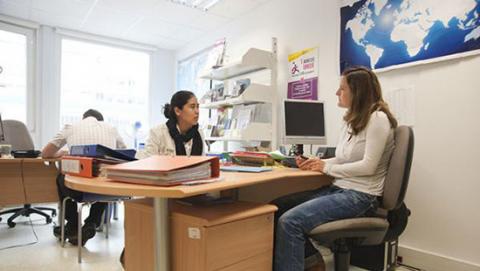 Grants and financial assistance
Scholarships
Different types of assistance can be offered depending on the student's situation: 
One-off assistance
Exemptions, exceptional refunds of inscription fees
Reimbursement of inscription fees for scholarship students who have paid upon administrative registration.
Check with your faculty.
Solidarity and Development Fund for Student Initiatives("FSDIE")
Do you have projects, positive initiatives for Sorbonne University, its students, its community, are you facing financial difficulties? 
The Fonds de solidarité et de développement des initiatives étudiantes (FSDIE) can help you financially.
Made up in part by the Student and Campus Life Contribution (CVEC), which each student pays into upon registration, this fund is available to students and their projects.
To benefit from it, you must apply for a grant, and your plans or application file will be examined by the FSDIE commission (see the FSDIE charter).
If you have any questions or problems, your contacts are your faculty's student life services.
Download :
See :
"Associations and civic life"
Social aid For international degree-seeking or exchange students, see your faculty's international relations dept.
Social workers offer students listening, help and guidance toward the appropriate structures if necessary. They also examine applications for emergency financial aid.
If necessary, check with your faculty.