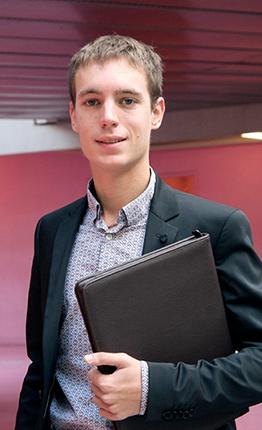 Robin Mathevet
Electronics Student and Drone Inventor
Without the support of Sorbonne University, it would have taken me a lot longer to build my first drone.
With his associate Tracey Calme, a graduate of the Sorbonne University's computer science master's program, Robin Mathevet created ICU, a company that designs and manufactures custom robotic equipment. He was accompanied in his project by Sorbonne University
You design custom drones. How did this project come about?
Robin Mathevet : I'm passionate about electronics, and in 2016 I set about manufacturing a first drone. Thanks to the Sorbonne University FabLab and to the financing obtained from the solidarity fund for the development of student initiatives, I had access to state-of-the-art equipment, allowing me to go much further in the design of the prototype. A year later, I tested it during a scientific mission to Madagascar, which required several adjustments according to the researcher's requirements (water resistance, long flights, sampling, etc.), an experience which made me want to create a custom robotic-equipment company.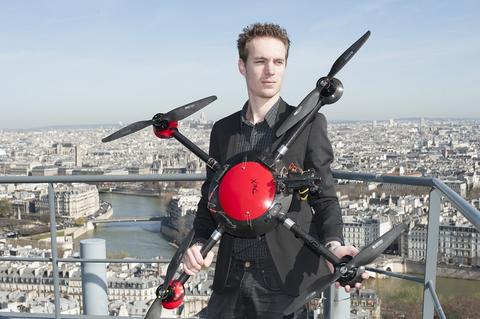 In 2018, you received the Student Entrepreneur Diploma (D2E)1 along with your Electronics, Energy and Automation degree. What did you gain from the D2E?
R. M. : I knew how to build a drone, but I still had a lot of questions about how to set up a business: how do you sell a product? to whom? how do you raise the money? The D2E professors gave me all the answers to the administrative, organisational, legal and commercial aspects, among others. They advised me and prevented me from falling into many traps. They also directed me to SATT-Lutech, which gave me information on intellectual property and patents.

During the events organised by the D2E, I had the chance to present my project in public, in front of potential investors. This diploma also allowed me to obtain the status of student entrepreneur and to adjust my schedule for my appointments related to the creation of the company, ICU.
In just a few words, how did Sorbonne University support you in the creation of your company?
R. M. : Without the support of Sorbonne University, it would have taken me a lot longer to build my first drone. I certainly wouldn't have found a scientific mission that allowed me to develop a first proof of concept and to show that I could make functional and useful drones. I would undoubtedly have found it more difficult to set up my company. With the help of my D2E professors, I created my startup in barely six months and I already have two customers: a town hall and a municipal police force.
1. The Student-Entrepreneur Diploma (D2E): The D2E supports students and young graduates of Sorbonne University and its partners in their business creation project. From October to June, this course offers individualised coaching, a program of evening classes (marketing, business model, accounting, communication and law) and group mentoring sessions. The courses are taught by Sorbonne University professors and economic stakeholders specialising in entrepreneurial mentoring. The D2E also allows a student who is starting up a business to benefit from special arrangements for setting up their business, and a young graduate to benefit from the extension of their student benefits.