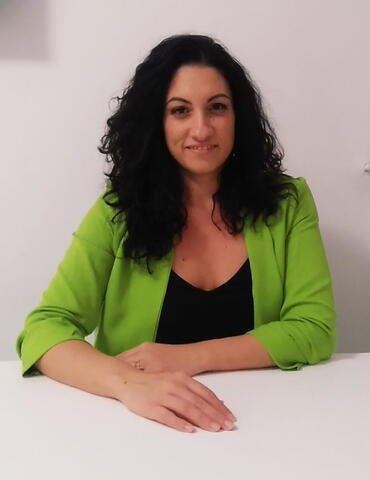 Fabiana Fotia
Administrative secretary at the University of Milan
I wanted to discover the organization of a foreign university, how it operates, and to exchange good practices with my French counterparts.
Fabiana Fotia has been an administrative secretary at Statale University in Milan for a year. She benefited from the 4EU+ Alliance's exchange program to immerse herself in the services of Sorbonne University for a fortnight.   
What were your expectations of your exchange experience?
F. F.: I have always been attracted by intercultural exchanges. After graduating with a Master's degree in Foreign Languages and Cultures in 2017, I first worked for two years as a Spanish teacher and a tutor for special needs students in an Italian secondary school. I then moved to Valencia to obtain a certification to teach French to foreigners living in Spain.
Through this exchange with Sorbonne University, I wanted to discover the organization of a foreign university, how it operates, and to exchange good practices with my French counterparts. I also wanted to develop new collaborations and work in another language.  In the future, I would like to join the communications department of Statale University. So this was also an opportunity for me to observe an equivalent department in Paris.
Why did you choose Sorbonne University? 
F. F.: I love France, its culture; I know its language, and I have always dreamed of having an experience in this historic and internationally renowned university.
In which departments did you spend your time?
F. F.: I worked in the communications department and the international relations department, two departments for which I had an affinity because of my educational background, but also because of my activity in my university's law department. I manage its communication side (writing articles for the department's websites, managing social networks, promoting events, etc.)
What were the steps involved in carrying out this exchange?
F. F.: Statale's international affairs office sent a description of these exchange programs and the 4EU+ partner universities to all the university's staff. I applied for Sorbonne University, indicating my expectations, my objectives and the desired duration of my stay, which could be from two days to two months. 
I then contacted Hakima Fassi Fihri, operational coordinator of the 4EU+ European project at Sorbonne University. I told her what I was doing in Milan and what I expected from my stay at Sorbonne University. She offered me the possibility to share my time between the communications department and the international relations department, and sent me a schedule of my activities. I then looked for accommodation in Paris and arrived at the end of June for a fortnight. I will be reimbursed for accommodation, transport and food expenses up to €128 per day upon presentation of receipts.
What activities did you participate in?
F. F.: First of all, I observed a lot of the organization of the services and the work of each person. In the 4EU+ offices, I followed a different colleague every day to see how they worked, explained what I do in Milan and made my contribution. For example, I helped my colleague with social networks and with the organization of a 4EU+ event in Versailles, where I had the chance to meet the Minister for Research and Higher Education. I also observed the operations of the communications department, its different aspects (internal, external, digital, graphic, etc.) I took advantage of the staff party to exchange with other colleagues. I also visited the university's flagship sites: the mineralogy, zoology and anatomopathology collections, the historic Sorbonne campus, the Cordeliers campus, etc. I was very well received and integrated by the colleagues, many of whom I was also able to meet up with after work. 
Would you recommend this experience to others?
F. F.: Absolutely. Even if it is only for a week or a few days, it is a personal and professional enrichment that allows you to meet new people and discover other ways of working. Afterwards, I would like to repeat this experience in other countries, but also come back to Sorbonne University because it is my favorite university.