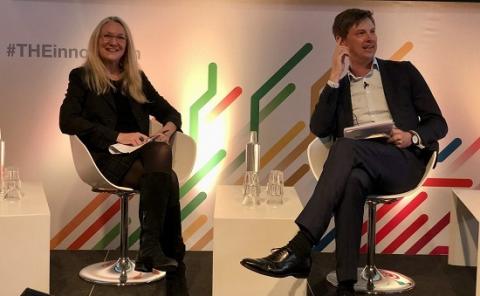 Sorbonne University at the Times Higher Education Innovation & Impact Summit
How can universities establish and maintain a culture of innovation? How do they assess, recognize and encourage innovation?
Renowned universities, including Sorbonne University, as well as major private and public sector companies met in Stockholm from April 26 to 28 to discuss these questions, at the Times Higher Education Innovation & Impact Summit.
In partnership with the prestigious Swedish university KTH Royal Institute of Technology, the Times Higher Education Innovation & Impact 2022 Summit brought together several hundred presidents and vice presidents of research universities, policy makers, international researcher organizations and business leaders. The objective: to discuss the role of universities and their contribution to a successful, prosperous and sustainable innovation ecosystem. 
It was also an opportunity for Sorbonne University, which recently became the pilot of a University Innovation Cluster (PUI), to assert its mission at the national, European and international levels.
A roundtable discussion brought together Melissa Rowe, vice president of international research talent at the RAND Corporation (United States), Sudesh Sivarasu, director of the biomedical engineering research center at the University of Cape Town (South Africa), and Elisabeth Angel-Perez, vice president of research and innovation at Sorbonne University.
According to Angel-Perez, "Universities have the responsibility to support innovative research and the researchers who conduct it, from the conception of their project to its completion and transfer to the socio-economic world! However, there is no such thing as made-to-order innovation. It is therefore essential to finance fundamental research."
Sorbonne University's participation in this and other impactful conferences confirms its commitment to taking a central place in society, its support of the complete innovation chain and that the research it carries out must have a virtuous impact on the world.