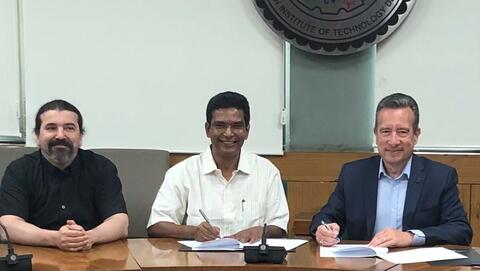 Sorbonne University and IIT Delhi Seal their New Strategic Partnership
A new Memorandum of Understanding was signed between Sorbonne University and IIT Delhi in Delhi (India) on June 7, 2023, sealing a new strategic partnership.
The partnership is the fruit of a collaboration which began in June 2022 when the two institutions teamed up and were successful in their submission of a joint project as part of the French government's Franco-Indian Campus for Health initiative. An initial joint workshop was held at IIT Delhi in February with the participation of 11 faculty and staff from Sorbonne University and dozens more who contributed online.
Collaborative research projects are underway notably in cancer studies, neurosciences, biotechnology, and biomedical engineering, with more to follow. Student mobility will begin next academic year with 2 Master's students from Sorbonne University going to IIT Delhi and 4 postgraduate students from IIT Delhi who will spend time at Sorbonne University.
The two partner institutions plan to expand the fields of collaboration gradually over several years.
Representatives Christopher Cripps, Senior Advisor to the President for Global Engagement & Diplomatic Affairs and Professor Alexandre Escargueil, Coordinator of the Indo-French Campus project were at IIT Delhi June 5 to 8, hosted by Dean of International Programs, Prof. James Gomes and Indo-French Campus Coordinator, Prof. Manidipa Banerjee. The objective of the visit was to sign the institutional agreement, forge ahead with joint education and research projects, and promote the mobility schemes to IITD Delhi students.
Sorbonne University will host a delegation of faculty and staff from IIT Delhi in Paris in October 2023.