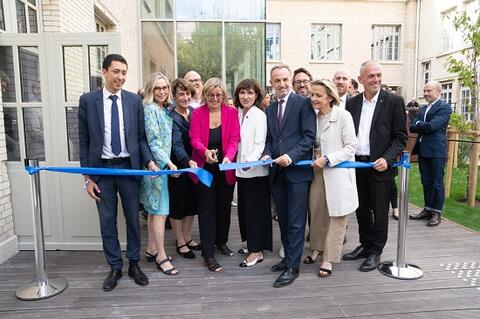 The Inauguration of the Maison Poincaré
On Wednesday September 27, the Maison Poincaré was inaugurated at the heart of the Institut Henri Poincaré (IHP), under the patronage of the French President. The ceremony was attended by representatives of the Ministry of Higher Education and Research, the City of Paris, the Île-de-France Region, Sorbonne University and CNRS.
Co-sponsored by Sorbonne University and the CNRS, and hosted by Sorbonne University, the Maison Poincaré is the first museum entirely dedicated to mathematics and its applications. It invites visitors to understand the approach taken by scientists, to discover their careers, and to appreciate the influence of mathematics on our daily lives through original and entertaining displays.
After discovering the "Streetmath" participative work inspired by the mathematician Olga Paris-romaskevich, guests were able to visit the permanent and temporary exhibitions alongside the Maison Poincaré's ambassadors and scientific mediators. They then attended the opening ceremony attended by Cédric Villani, 2010 Fields Medalist.
"With this museum, the only one of its kind in France, the entire scientific community will be working to ensure that there is no longer any apprehension or rejection of numbers and fractions from an early age," declared Nathalie Drach-Temam, President of Sorbonne Université.
Sylvie Retailleau, Minister of Higher Education and Research added, "Our mission is to give young people a taste for science and to educate tomorrow's citizens to form opinions based on facts." Mathematics is at the heart of science, both for research and for all levels of education. It is also at the heart of society and a discipline that is crucial to meeting the challenges we face."
At the Inauguration