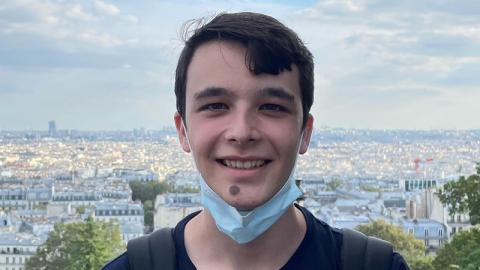 A Day in the Life of a Sorbonne University Exchange Student: Nicolo Lovinello
Nicolo Lovinello, an undergraduate student at one of our partner institutions, Indiana University, shares his experience as an exchange student at Sorbonne University.
What are you studying in Indiana, and what classes are you taking at Sorbonne University? 
I am studying Environmental Science with a minor in French at Indiana University. Sorbonne University does not offer an environmental science program, but they do offer courses in many of the disciplines involved in studying the environment. Being an international student gives me more freedom to choose courses. Here at Sorbonne University, I am taking two courses in geology: Geochemistry and a combined course of Sedimentology and Geodynamics. I also have two biology courses, focusing on ecological studies, which are Plant-Environment Interactions, and The Scientific Method and its Application to Ecology. For French I have a French foreign language course and an extracurricular writing class.
In your experience, what's the biggest difference between the education style in the US and France?
The biggest difference for me is the lack of quizzes and homework. In France, a lot of the time spent outside of class is devoted to self-led studying. There may only be one or two homework assignments or one test before the final. This can make it a little more challenging to anticipate what will be expected on the exams and where you need to improve your knowledge, but I've found that a simple review session at the end of each week can help me stay on top of things.
One major highlight and one major challenge?
For me the biggest challenge was developing new vocabulary in French to describe the concepts I learned in class. A great example is in my geology classes, where describing textures, size, and other qualitative features of rocks are extremely important. Many of these terms are obviously too specific to cover in a French foreign language class, and it can be quite jarring to not be able to express your knowledge in the manner you would under normal circumstances. The biggest highlight has been developing new relationships, and the experiences that come with it. Throughout this program I have begun to realize what a social person I am, and the warmth of my French classmates and the comradery of my international friends is truly delightful.
Take us through a typical day at Sorbonne University. 
During the week I'm up at 7 to make coffee, my lunch for the day, and leave for my 8:30 class. At 12:45 I go to the geological student association room to have lunch and a coffee. After that I either have more classes, or study in the library before going home. Later in the week I may go for an after-class drink with some friends. On the weekends I catch up on the sleep I missed from the week and normally go out with friends later in the evening. When I have free time during the week I love to go for walks around my neighborhood. 
What advice would you give to other students interested in studying abroad at Sorbonne University? 
My biggest piece of advice is don't be afraid to ask questions. Personally, the idea of being a foreigner can be a little intimidating, especially when it comes to everyday interactions. Something as simple as asking the teacher to repeat themselves can be a big deal when you are the only non-native French speaker in the room. Professors, administration, and other students are always happy to help. 
What was it like to live in Paris?
To put it simply, life in Paris is hard. I have experienced extremes of almost every emotion, whether it be the frustration with bureaucracy, the isolation of the first week, or the joy of spending a day with close friends exploring the city. The positive experiences far outweigh the negative ones, and there are always new adventures to be had. One strange thing is that the novel mystique of the city can wear off as I fall into the normal habits of student life until suddenly, a picnic at the Eiffel tower or a walk along the Seine revitalizes the novelty of the city and my excitement to explore it. 
Pictured: Nicolo Lovinello exploring the Montmartre district of Paris during his exchange program at Sorbonne University.