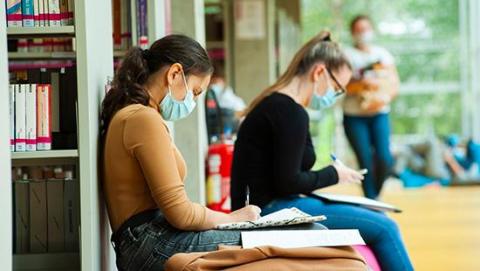 Covid-19 FAQs
The best prevention of COVID-19 is to respect barrier gestures: wearing a mask, washing hands regularly, and physical distancing when possible. For more detailed information on changes to university facilities and any assistance you may require, consult our FAQs and updates below. 
Consult our FAQs
Following the French President's announcement of a second national lockdown of at least four weeks to try to control the spread of Covid-19, Sorbonne University's campuses are closed. As a result, classroom teaching activities, including all practical work, will be suspended from Friday October 30th to Tuesday, December 1st. The university has put in place specific measures to assist you as best we can during this time.
Our FAQs will be updated as regularly as possible. In the meantime, we recommend that you regularly check your email inbox.
 
1. Emergency help, health and solidarity
2. Pedagogical continuity: education and research
No, university sites remain open. However, due to decisions made by the government, the number of students allowed on site is limited to 50% of the maximum capacity in every teaching space, library and dining area.
With the exception of the Axial-Caroli Library (which is temporarily closed), Sorbonne University libraries are open as per their usual hours.
Since October 6th, the capacity of each library has been cut in half, for a minimum of fifteen days. Some spaces are temporarily inaccessible. Download the Affluences application to find out the occupancy rate of your libraries in real time.
No penalties will be applied for the late return of items in the event that access to our campuses is impossible. Access to our libraries is closely linked to access to our campuses, and therefore depends on changes in policies and student numbers week to week.
Wearing a mask is mandatory in all librairies, as is washing your hands at the entrance and before borrowing any material (computers, tablets), consulting books or using the automatic machines.
Dispensers of hydroalcoholic solution are available, as well as cleaning equipment for disinfecting borrowed computers or shared computer stations in the reading rooms. 
All borrowed items are quarantined for three days after being returned. A waiting period may therefore apply before you can re-borrow a book or document that has just been returned; don't hesitate to reserve your books and come and pick them up on the spot once they're ready, by sending an e-mail directly to your library.
You can now also return your books to any one of our libraries, regardless of which one you borrowed your item from.
For any questions, contact us via the following:
Email: bu@sorbonne-universite.fr 
Facebook: @BU_Sorbonne_University
Twitter : @BuSorbonne_Univ
Instagram : @BU_Sorbonne_Univ
3. International students and exchange programs
If you are here on Erasmus, we strongly advise you to contact your country's consular services as soon as possible. Assistance can be provided by embassies, consulates and honorary consulates, in particular by registering on the 'Ariane' application.
Additional information is available on the Génération Erasmus website.
A toll-free number is available 24 hours a day, 7 days a week: 0 800 130 000.
This depends on where you come from. For students arriving from "green" countries, we require you to have a certificate of absence of symptoms of covid-19. For more information, please consult the information published by our Interior Ministry. 
For students arriving from a country classified as a SARS-COV-2 active circulation zone, we require you to obtain a certificate of exemption from international travel, available on the website of the Interior Ministry. This certificate must be accompanied by supporting documents to establish the student's status and the educational reason for the trip.
For students coming from red-zone countries, our requirements are stricter: 
- Students arriving from category 2 countries by air or having stayed there during the previous 30 days (without a negative test less than 72 hours old upon disembarkation) will be screened by the ARS (regional health agency).
Students whose visas expired between March 16th and June 15th, 2020 may, in order to maintain their activities or facilitate border crossings, travel outside of France. You should carry the official document outlining visa extensions when you do so.
Students whose permits expired after June 15th can apply for a return visa at the French consulate in their country of residence. It is recommended that you return directly to France without transiting through another country in the Schengen area.
For any further information, you can email our dedicated information services at Sorbonne University.
For the Faculty of Arts and Humanities, scroll down to the contact information listed on this page. You can also call the Fil jaune telephone line on 0 805 360 804 (free from within France.)
For the Faculty of Science and Engineering, find your contacts here or call the Fil bleu line on 0 800 725 090 (free within France.)
For the Faculty of Medicine, head here or call their Fil rouge on 01 71 11 96 22.
International students can also find helpful contact information here.