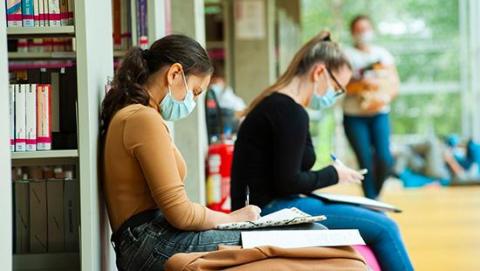 Covid-19 FAQs
The best prevention of COVID-19 is to respect barrier gestures: wearing a mask, washing hands regularly, and physical distancing when possible. For more detailed information on changes to university facilities and any assistance you may require, consult our FAQs and updates below. 
Consult our FAQs
Following the French President's latest announcement in an effort to control the spread of the virus and protect the population as best as possible, the university is putting in place specific measures and assistance to meet your needs.
We also invite you to regularly consult your email and ensure its proper use, as well as your ENT.
Don't forget to download your student application, and to consult the provisions for the start of the 2022 academic year.
The FAQ below is updated as the situation evolves. 
1. Emergency help, health and solidarity
Sorbonne University supports its student community facing material difficulties by proposing a set of assistance devices, adapted to the health context. Read about them here (in French.)
Thanks to a partnership with HP, Sorbonne University is able to offer all students help in acquiring computer equipment through the establishment of a dedicated store: 
Immediate upfront discounts of 10-25% off all equipment in the online store.
Vouchers allocated to beneficiaries of level 6 or 7 scholarships (or the equivalent social situation) for free equipment.
Read the process for applying on our 'Grants and financial assistance' page.
The website of the Ministry of Solidarity and Health specifies the steps to take depending on your situation.
If you are experiencing symptoms, even weak ones, follow these steps:
Self-isolate without delay and practice social distancing, even with those close to you;
Wear a mask when going out or indoors if isolation is difficult at home;
If you are vaccinated or a minor, perform a rapid antigen test or RT-PCR test (prescription not required); 
Contact your attending physician or, failing that, contact the SUMPPS (do not go directly to the doctor or the hospital emergency room). If you have not been vaccinated, the doctor will prescribe a rapid antigen test or RT-PCR;
List the people with whom you have been in close contact without respecting sanitary measures (people in the same household, students sharing the same bench...) 2 days before the beginning of the signs of the disease until the start of your isolation period.
In addition to tests carried out in private laboratories, the City of Paris and the Regional Health Agency are offering free testing facilities, including for people without national health insurance.
Go to the 'Where to get free testing in Paris' section  in your digital student guide.
Psychiatric services without appointment:
At the

Service Universitaire de Médecine Prévention et Promotion de Sorbonne Université (SUMPPS)

from Monday to Thursday from 3:00 p.m. to 4:00 p.m. and on Fridays from 1:00 p.m. to 4:00 p.m., 15 rue de l'Ecole-de-Médecine, staircase G, 3rd floor, 75006.
On the Pitié campus of the Faculty of Medicine, every Tuesday from 1:00 pm to 4:00 pm and Fridays from 1:00 pm to 4:00 pm, office 27 of the Student Life Services, 91 Bd de l'Hôpital 75013.
At the medical office of the Clignancourt campus of the Faculty of Arts and Humanities, every Thursday from 9:30 am to 12:30 pm, 2 rue Francis Croisset 75018 Paris.
On the Pierre and Marie Curie campus of the Faculty of Science and Engineering, every Tuesday from 2:00 pm to 4:00 pm, Thursday from 2:00 pm to 5:00 pm and Friday from 9:00 am to 12:00 pm, 4 place Jussieu, 75005, at RHSE - Patio 22/23. 
On the Malesherbes campus of the Faculty of Arts and Humanities, every Monday from 1pm to 4pm in the office of cultural services, nicknamed the Aquarium on 108 bd Malesherbes, 75017.
Reception by appointment at SUMPPS, Cordeliers campus, 15 rue de l'École de Médecine, staircase G, 3rd floor:
In addition to these free consultations, there are several other services that are also free because they are paid for by the State:
From 1 to 8 sessions with a psychologist as part of a care program. To benefit from this program, visit the SUMPPS website.
Consultation centers open to all students who wish to receive psychological help. Their teams are composed of psychotherapists (psychiatrists and psychologists), social workers and an administrative service. Locally, other professionals can also offer their help within the framework of the BAPU. These consultations are covered at 100% by national health insurance and mutual insurance companies.
A completely free and anonymous website dedicated to psychological support. Designed for you by psychological support professionals, you will find information, advice, practical exercises to do at home, and you can benefit from teleconsultations (up to 3 free) with psychologists.
ARS "Psy Île-de-France" listening platform, at 01 48 00 48 00.
Consult the University's Health Booklet (in French) to find all the information you need.
Note: the university also offers Mindfulness Meditation, Self-Esteem, Stress Management, Sophrology and Letting Go, Rigology and Laughter Yoga workshops. Some of these workshops are available by videoconference. Find out more and register on the platform dedicated to student activities.
SUMPPS consultations are open to everyone and are free of charge; depending on the situation, they can be carried out in person, by telephone or by videoconference.
Consultations offered: general medicine, psychiatry, addictions and tobacco, nutrition and diet, vaccinations, travel medicine, midwifery for contraception and gynecology.
You can make an appointment at the Department of Preventive Medicine and Health Promotion (SUMPPS), which is open Monday to Friday from 9am to 6:30pm, by calling 01 40 51 10 00 or visiting the SUMPPS website.
2. Pedagogical continuity: education and research
The university sites remain open. Teaching will continue to take place in the classroom in strict compliance with the health provisions defined at the beginning of the 2021 academic year.
Student evaluations are maintained under the conditions provided by the terms of knowledge assessment based on classwork (MCC) voted by the CFVU. Exams can still be organized in person in accordance with the health protocol defined by the ministry (MESRI) in November 2021.
Students who are "confirmed Covid cases" or who have been placed in quarantine do not have to attend the in-person examination sessions. On the other hand, students with a complete vaccination schedule may take the exams. For students in quarantine, alternative methods of testing will be proposed by January 24, 2022. Particular attention will be paid to the situation of students enrolled in a diploma year (the last year of a bachelor's program or the last year of a master's). 
All of these procedures are communicated to students by their academic units or departments; they may also be published on faculty websites.
Internships, whether they take place within Sorbonne University or outside, are maintained under the condition that the conditions of reception of interns respect the specific health measures applicable within the framework of the COVID health crisis. In order to facilitate procedures, internship agreements can, if necessary, be signed remotely, via scanned signatures.
Yes, sports activities are available, including activities that are not considered official university classwork. Sports activities are continuing, but must respect the public health protocols established by each sports federation.
3. International students and exchange programs
If you are here on Erasmus, we strongly advise you to contact your country's consular services as soon as possible. Assistance can be provided by embassies, consulates and honorary consulates, in particular by registering on the 'Ariane' application.
Additional information is available on the Génération Erasmus website.
A toll-free number is available 24 hours a day, 7 days a week: 0 800 130 000.
New rules are in force since December 4, 2021.
People entering France must now present a negative PCR or antigenic test less than 24 or 48 hours old, depending on the country of origin. The only exception is for people with complete vaccination. These people do not have to present a test when they arrive from a European Union member state, Iceland, Liechtenstein, Monaco, Norway, San Marino, the Holy See or Switzerland. 
In addition, to cope with the spread of the Omicron variant, the classification of countries, defined on the basis of health indicators, has evolved, with the addition of a "scarlet red" country classification: 
"Green" countries: no active circulation of the virus
 "Orange" countries: active virus circulation in controlled proportions
The United Kingdom requires a compelling reason to enter France because of the active circulation of a variant of concern. These specific measures apply to travel to and from this country as of December 20, 2021
"Red" countries: active virus circulation, presence of variants of concern
"Scarlet" countries: particularly active circulation of the virus and/or discovery of a variant likely to present a risk of increased transmissibility or immune escape
| Destinations | Missions/ student exchanges |
| --- | --- |
| Green countries | Possible without any specific authorisation |
| Orange countries | Possible without specific authorization but strongly discouraged |
| Red countries | Forbidden except for compelling reasons and with specific authorization from the Dean |
| Scarlet countries | Forbidden |
For more complete information, please visit the Interior Ministry's website.
The university restaurant
Yes, the CROUS in Paris is still open and also offers students takeaway lunches for €1.
Contacts
For the Faculty of Arts and Humanities, scroll down to the contact information listed on this page. You can also call the Fil jaune telephone line on 0 805 360 804 (free from within France.)
For the Faculty of Science and Engineering, find your contacts here or call the Fil bleu line on 0 800 725 090 (free within France.)
For the Faculty of Medicine, head here or call their Fil rouge on 01 71 11 96 22.
International students can also find helpful contact information here.