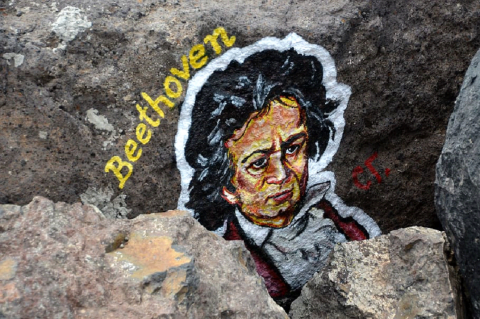 Celebrate the 250th anniversary of Beethoven's birth!
On the occasion of Ludwig van Beethoven's 250th birthday, the University Library at Clignancourt offers a selection of resources to discover or rediscover this great musician.
Ludwig van Beethoven, 1770-1827
Beethoven was born on December 17, 1770 in Bonn (Germany). This year we celebrate the 250th anniversary of his birth. His father, himself a musician, taught him music at a very young age. Ludwig quickly became an outstanding pianist and composer. During his lifetime, he met other great names in music such as Haydn and Mozart, when he lived in Vienna for part of his life.
Unfortunately, from 1796 onwards, Beethoven gradually became deaf, but instead of giving up music as he had envisaged, he faced his fate and continued composing masterpieces such as his 9 Symphonies or his string quartets. Beethoven died on March 26, 1827 in Vienna. He is considered one of the greatest composers in history.
(Re)discover Beethoven at home: some online resources