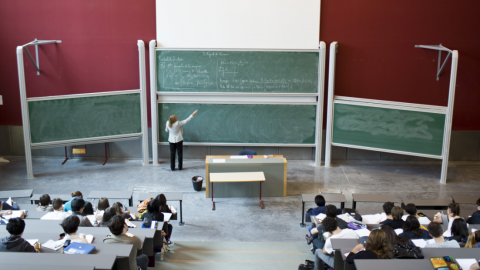 French Language Courses
Sorbonne University offers a range of French courses for international students entering a degree, an exchange program or a research program, and also for members of the public interested in improving or consolidating their French language skills. 
Language requirements:
The majority of courses at Sorbonne University are taught in French. This means that, although courses to assist you in learning French are available, a sufficient level of French is required if you're planning to integrate into full degrees or regular classes.
For university-level courses in the Faculty of Arts & Humanities or the Faculty of Science & Engineering, the French language requirement is generally B2 or higher (this can be understood as 'fluent'), based on the Common European Framework of Reference for Languages (CEFRL). If you're planning on studying at the Faculty of Medicine, the CEFRL C1 level in French is required for all degree programs.
If you're in need of upgrading your language skills in order to complete your studies, you can register for intensive language courses at Sorbonne University.
Non-French speaking students can take regular classes throughout the year, as well as intensive courses prior to the start of the university year. The Faculty of Arts and Humanities offers an intensive 30-hour course, on the Sorbonne-Clignancourt campus, in early September from Monday to Friday!
Fees:
For students whose FLE (French as a Foreign Language) courses are included in their pedagogical contract in order to obtain ECTS: the FLE courses are FREE.
For scholarship students: the FLE courses are FREE (upon presentation of proof).
For auditors (students, doctoral students, researchers or professionals from the Sorbonne University Alliance) 50 euros per semester.
For candidates outside of the Sorbonne University Alliance (student or non-student), please contact us. Applicants who are not part of the Alliance can apply for courses by contacting the tuition office directly.
Registration:
Registration takes place in person at the FLE-FOU office or online via a questionnaire.
Once students have been confirmed for a FLE course, they need to finalize their registration online according to the IPWEB opening calendar.
For all salaried professionals, the finalization of registration will be processed by the Continuing Education Department. For more information, please consult the tab: "Courses "A la carte."
At the time of registration, the candidate will be asked to provide proof of certification identifying their level of French as a foreign language (for example, SELFEE, DELF, DALF, TEF, TCF, Erasmus+ test). If they have never taken an FLE course, they will be required to pass an online test for their French proficiency. 
Tutoring
The SIAL also provides a French tutoring service for registered students, offering customized help adapted to the student's individual needs.
This service is now conducted online. It is therefore preferable to have a Skype or Google account.
For more information and to book a tutoring session, please contact the FLE. 
Contact:
Please contact us.
Students can also drop by the SIAL offices in the Sorbonne (54 rue Saint Jacques, 75005 Paris), room D670, Cour Cujas, during opening hours.
The former FLE offices in Clignancourt are currently closed.
Registrations are closed for January internships.
The French as a Foreign language office forms part of the Language Department of the Faculty of Science and Engineering. It is located on the Pierre et Marie Curie Campus:Tour 43, couloir 43 – 53, 1er étage, bureau 102.
After taking a compulsory online placement test, non-French speaking students can take classes for one or two semesters. Depending on your level, you can choose between 2 and 6 hours of study a week.
Fees:
Classes are free for bachelor's and master's students enrolled in Sorbonne University or at one of Sorbonne Alliance member institutions (MNHN, UTC, CNRS, etc.).
For students not registered at Sorbonne University or at one of our partners, there is a 250 euro fee for a 30-hour course or 400 euros for a 60-hour course.
Sorbonne University students and personnel can also register for intensive workshops in January or in June (same fees as above). The workshops however do not provide any course credits – ECTS). The summer and winter workshops  are generally 30 hours long.
For a more informal option, students can sign up for conversation classes with French students in the Espace Langues (right across from the FLE office, 43-53 First floor, Room 105).
Contact:
French as a Foreign Language Office (FLE): Elisabeth Ménez
Tower 43-53 (tower entry 43), first floor, office 102
4, place Jussieu. 75252 PARIS cedex 05
Email
For those who are not students at one of the institutions of the Sorbonne University Alliance, the Continuing Education Department offers tailored French classes throughout the year. Contact the Continuing Education Department.
SELFEE-Sorbonne is the French language exam service for international students.
Since 1961, Sorbonne University has offered candidates who wish to master French the opportunity to acquire six different qualifications, validating their written and oral skills and providing a bridge to French higher education. These diplomas correspond to levels B1, B2, C1 or C2 (which correspond to the Common European Framework of Reference for Languages), and are recognized by the Prefecture of Paris.
Contact
SELFEE-Sorbonne
Sorbonne University Faculty of Arts and Humanities
Cour St. Jacques - Staircase H, first floor, office F672
Opening hours :
Monday to Friday, from 9h30 to 12h30 and 14h00 to 17h00. Closed on Wednesdays. 
1 rue Victor Cousin
75005 
Paris