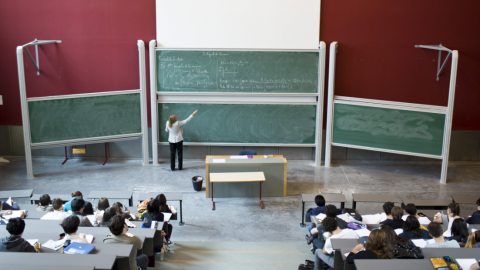 French Language Courses at the Faculty of Science and Engineering, and in Continuing Education
Discover how to improve or consolidate your French language skills within the Faculty of Science and Engineering, or in the context of Continuing Education.
The French as a Foreign language office forms part of the Language Department of the Faculty of Science and Engineering. It is located on the Pierre et Marie Curie Campus:Tour 43, couloir 43 – 53, 1er étage, bureau 102.
After taking a compulsory online placement test, non-French speaking students can take classes for one or two semesters. Depending on your level, you can choose between 2 and 6 hours of study a week.
Fees:
Classes are free for bachelor's and master's students enrolled in Sorbonne University or at one of Sorbonne Alliance member institutions (MNHN, UTC, CNRS, etc.).
For students not registered at Sorbonne University or at one of our partners, there is a 250 euro fee for a 30-hour course or 400 euros for a 60-hour course.
Sorbonne University students and personnel can also register for intensive workshops in January or in June (same fees as above). The workshops however do not provide any course credits – ECTS). The summer and winter workshops  are generally 30 hours long.
For a more informal option, students can sign up for conversation classes with French students in the Espace Langues (right across from the FLE office, 43-53 First floor, Room 105).
Contact:
French as a Foreign Language Office (FLE): Elisabeth Ménez
Tower 43-53 (tower entry 43), first floor, office 102
4, place Jussieu. 75252 PARIS cedex 05
Email
For those who are not students at one of the institutions of the Sorbonne University Alliance, the Continuing Education Department offers tailored French classes throughout the year. Contact the Continuing Education Department.