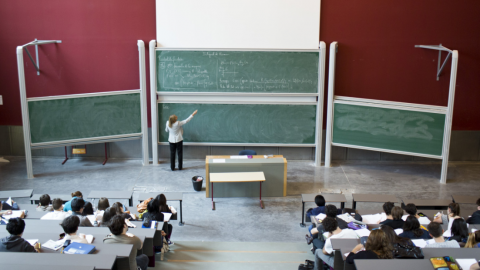 French Language Courses at the Faculty of Science and Engineering, and in Continuing Education
Discover how to improve or consolidate your French language skills within the Faculty of Science and Engineering, or in the context of Continuing Education.
French as a Foreign Language  (FLE) courses are intended for all students and non-francophone staff enrolled at Sorbonne University. Students can benefit from French courses depending on their level (assessed thanks to a mandatory test).
The goal of the course is to give a sufficient level of  proficiency in French so as  to :
understand science courses well;
help students to integrate into laboratories;
facilitate daily life in France.
Organisation
Semester courses are organized in 2 or 4 hour-classes per week depending on the student's initial level, with more time devoted to complete beginners and A1 level groups. 
Classes are generally held in the evening from 6 to 8 pm.
Intensive courses are also offered in January and June.
YEAR SCHEDULE

1st semester

from September to December

Additional courses for doctoral and post-doctoral students

from October to December

Winter intensive course

January

2nd semester

from February to May

Summer intensive course

June
Assessment
The students' progress is assessed through both classwork and final examinations. Classwork grades (on a week-to-week basis) represents 60% of the final grade, final examinations 40%.
The course content is based on the Common European Framework of Reference for Languages (CEFR).
NB: reaching a B2 level is recommended in order to be able to follow scientific courses at the university.
Fees
The courses are free of charge for students enrolled in a Bachelor's or Master's degree program as well as for Erasmus students.
Courses are not free for doctoral students, post-doctoral students and researchers. Your doctoral school or the laboratory takes care of the tuition fees which amount to between €250 and €400 depending on the level.
Registration
All registrations can only be made through the links provided on this linked page (in French).
It is imperative to look at the Sorbonne University website to meet the registration deadlines.
Contact
Bureau du Français Langue Etrangère
Entrée tour 43 - Couloir 43-53 / 1er étage - Bureau 110