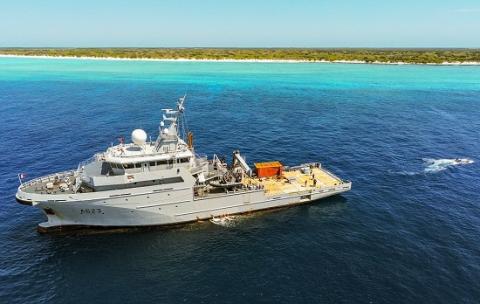 Mission Bougainville: scientists and soldiers commit to marine biodiversity
To preserve the ocean, we need to know who is living there. They are made up of tens of billions of microorganisms known as the oceanic microbiome. Without them, there would be no oxygen and no life on Earth! To better understand this invisible population and its adaptation to climate change, the Sorbonne University Alliance's Ocean Institute and the French Navy are joining forces with the international Plankton Planet  program in a scientific observation mission unique in the world: the Bougainville Mission. Here's how it works.
The ocean microbiome: the invisible universe of the oceans
In every liter of seawater on a planetary scale lives a population of microorganisms. Viruses, bacteria, protists, animals... There are between 10 and 100 billion of them, forming the largest network of living organisms on the planet: the oceanic microbiome, also known as plankton.
Microscopic in size (less than 1 mm) and invisible to our eyes, the oceanic microbiome is still poorly understood, even though it contains the major part of marine biodiversity and regulates the ecology of our planet. This plankton has been floating on the currents for four billion years, long before plants, animals...and humans! It is partly thanks to plankton that our planet is habitable. These organisms play a major role in our planet's delicate balance.
An unprecedented consortium to study plankton
In 2015, researchers from the Roscoff Biological Station (Sorbonne University/CNRS), Stanford University and the University of Maine in the USA, along with sailors from the Tara Océan Foundation, created Plankton Planet. This international program aims to mobilize the curiosity and creativity of SEAtizens , engineers and scientists in ecology, to implement a new generation of plankton measuring instruments.
In 2021, the Sorbonne University Alliance's Ocean Institute and the French Navy joined the program. The Bougainville Mission was created.
Named after the great French explorer Louis-Antoine de Bougainville (see below), this mission is a unique opportunity to take advantage of the French naval fleet's influence and presence in remote, little-visited ocean areas.
"Frugal" sensors on board French Navy ships
These brand-new, easy-to-use, inexpensive and open-source measuring tools, created by Plankton Planet, will be hoisted aboard French Navy vessels. They will be used to measure marine microorganisms: 
In the Southern, Indian and Pacific Oceans,

In many areas off the main shipping lanes, where few ships usually have access for safety reasons.
In the long term, the aim is to deploy these sensors on numerous sailing, commercial, transport and fishing boats, so that every SEAtizen in the world can take part in this eco-citizen approach to the ocean microbiome.
Wanted: students motivated to go to sea!
The Bougainville Mission is keen to involve the Sorbonne University student community. To this end, it is launching a call for applications from its Master's students.
In September 2023, four of them will become biodiversity officers, under the military status of volunteer officer candidate (VOA). For one year, they will embark on one of the French Navy's three Bâtiments de soutien et d'assistance outre-mer (BSAOMs) and criss-cross the 11 million km2 of France's oceans to collect biological data on the microbiome.
This data, which will then be made available to scientists worldwide, will be used to monitor the health of marine ecosystems and their evolution in the face of global warming.
One mission, three objectives
To collect data in remote areas that are rarely sampled, over long, multi-year spatio-temporal series, and on the routes of Navy support and assistance vessels located in overseas territories.

Contribute to the reliability and standardization of sensors and databases, and to the implementation of a production approach for large-scale universal applications.

Raise awareness and involve Sorbonne University students and French Navy sailors in a global eco-citizen initiative to measure and protect the oceans.
---
 1 Sorbonne University, CNRS, MIT, Stanford University, University of Maine, University of Auckland, Fondation Tara Océan, Association Plankton Planet
2  SEAtizens : the media for citizens of the sea, https://seatizens.org
Who was Louis-Antoine de Bougainville?
Count Louis-Antoine de Bougainville was a French naval officer, explorer and writer. Between 1766 and 1769, he led the first official French circumnavigation of the globe, inviting officers, experienced crews and two scientists to his vast project.
Back on terra firma, he published a book about his voyage, Voyage autour du monde par la frégate La Boudeuse et la flûte L'Étoile, which served as a reference for many other navigators.