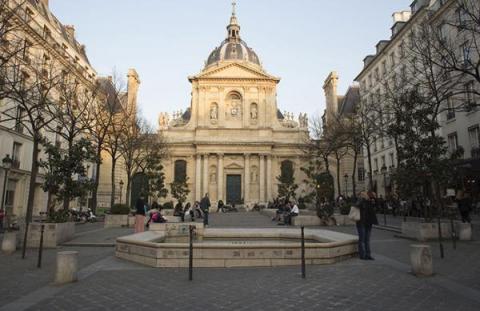 Faculty of Arts and Humanities
Giving students the tools to understand today's world and anticipate those of tomorrow: these are the challenges taken up by the Faculty of Arts and Humanities, which brings together the arts, languages, humanities and social sciences.
The Faculty of Arts and Humanities at Sorbonne University is today the most complete and the largest in France, in the field of arts, languages, letters, human and social sciences. Committed to conveying a humanist culture, its pedagogical excellence is based on the recognised quality of its research to offer the most complete and innovative teaching.

The Faculty of Arts and Humanities has a very strong international reputation and enables its students to enrich their education by opening up to the world through academic and research collaborations with renowned universities in Europe and the rest of the world. As with all Sorbonne University courses, the internationalisation of courses is our priority.
A diverse range of courses:
The Faculty of Arts and Humanities  specialises in numerous areas: classical and modern literature, languages, foreign literature and civilisations, linguistics, philosophy, sociology, history, geography, history of art and archaeology, and musicology. The faculty also has two in-house schools: the CELSA specialised in information and communication sciences, and INSPÉ (Institut national supérieur du professorat et de l'éducation), and Institute in educational sciences and teacher training.
Pedagogical innovation:
The Faculty of Arts and Humanities wants its students to benefit from an education that uses pedagogical innovations in a way that is adapted to each discipline. Teaching renews knowledge to ensure a better understanding of contemporary issues, with the priority being given to career guidance for graduates to integrate the workforce. Pathways are diversified and enriched to meet the needs of all students, whether they wish to go into teaching, research or civil service, or prefer to move into the business world, which is now fully integrated into the design of the courses and students' career opportunities. The potential of Sorbonne University makes it possible to offer bachelor's degrees that combine related or complementary disciplines (major/minor programs and double bachelor's degrees), as well as double master's degrees or multidisciplinary master's degrees.
Connected to research:
Connecting all courses to research is a fundamental principle of the Faculty of Arts and Humanities. The best academic researchers are involved from the first year of the Bachelor's degree and accompany students throughout their education. Their teaching of humanities and social sciences includes critical aspects that form well-developed minds, ready to start a professional life that is open to intellectual adaptation.