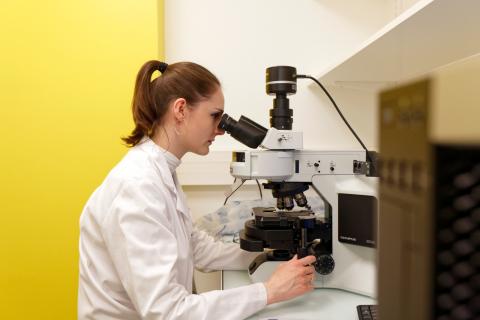 Saint-Antoine Research Center
UMR-S 938
Unité mixte de recherche en santé
The CRSA regroups a very strong potential for biomedical research oriented towards both fundamental and translational research. Research is performed in association with the clinical and biological departments of the St-Antoine – Tenon – Trousseau hospitals. The CRSA is composed of 13 accredited research teams and one administrative team located mainly on the site of the St-Antoine hospital but also of hospital Armand Trousseau.
Two scientific interacting orientations are identified: Research in Oncology and Haematology; and Research in Metabolism and Inflammation and Tissue Repair. They include several aspects of translational research: Fundamental; Preclinical; Pathophysiological and Aspects more specifically clinical.
The Research Centre developed collective facilities (such as L2, L3 laboratories) but is also implicated in technologic networks (such as Mass spectrometry, lipidomic and proteomic; Cell and tissue imagery, flow cytometry ; and functional exploration of small animals).
Oncology and Hematology
Microsatellite instability and cancer
The topics for our research team are focused on the study of mismatch repair (MMR)-deficient human tumors that develop through a particular molecular pathway characterized by the genetic instability of numerous microsatellite repeat sequences throughout the genome (MSI tumors). Since founded, the research interest of our lab is the analysis of the genetics of MSI tumors whatever their localization. The overall aim of our activity is to investigate important pathophysiological aspects of MSI carcinogenesis. Questions and hypothesis, on the fundamental and clinical sides, related to this particular tumor type are deduced from the analysis of causes and functional consequences of the microsatellite instability process characteristics of these tumors. These last ten years, we have built and exploited a unique collection of biological tools, mouse models, sample collections, clinical databases and techniques that have been designed or adapted by ourselves and collaborators for the study of MSI cancers. Translational research topics have been developed in order to gain maximum benefit from our findings. This allowed the discovery of new risk factors, biomarkers, and diagnostic tools of clinical interest for patients suffering from MSI cancers.
Pr Alex DUVAL
Contact : alex.duval@inserm.fr
https://www.crsa.fr/equipe-alex-duval.html
TGF- β signaling in cellular plasticity and cancer
TGFβ exerts a biphasic role in tumorigenesis, acting as a tumor suppressor in early stages while promoting metastasis in later stages. How TGFβ elicits this dual function remains a subject of intensive research. Our research is aimed at elucidating the interplays among various components of the TGFβ pathway, with particular emphasis on the molecular mechanisms underlying cancer progression and cell plasticity. In particular, we characterized the E3 ubiquitin ligases WWP1, Arkadia and PHRF1 deregulated in cancer that modulate TGFβ signaling, identified novel mechanisms by which the homeoprotein TGIF restricts TGFβ signaling during cancer progression and showed that two key players of tumor invasion (the metabolic enzyme NM23 and the kinesin MKlp2) are altered during the invasive program.
 Dr Celine PRUNIER 
Contact : celine.prunier@inserm.fr
https://www.crsa.fr/equipe-celine-prunier.html
Cancer biology and therapeutics
The major objective of our team is to establish a continuum between fundamental, preclinical, translational and clinical research by promoting interactions between the clinical and biological services of the Saint-Antoine, Tenon and Pitié-Salpêtrière hospitals.
Our research is centered on the following axes :
Tumor cell plasticity, in particular epithelial-mesenchymal transition (EMT) and stem cell phenotypes. The relationships between invasion, chemoresistance and recruitment of immune cells. Role of CCN proteins and alarmins.
The vascular tumor environment. Relationship between cancer and thrombosis. Vascular mimicry and circulating tumour cells.
Development of new drugs or drug combinations. Identification of prognostic or predictive biomarkers.
Dr Michèle SABBAH & Dr Annette LARSEN
Contacts : michele.sabbah@inserm.fr / annette.larsen@mfex.com
https://www.crsa.fr/equipe-annette-k-larsen.html
Hematopoietic and leukemic development: diseases and cell therapy
The team « Hematopoietic and Leukemic Development » is composed of two groups :
The first group is dedicated to myeloid malignancies. It studies the development of adult and children acute myeloid leukemia in two contexts : the context of age-related clonal hematopoiesis, and the context of genetic predisposing syndromes such as congenital neutropenia. Ongoing studies are focused on the clonal hierarchy and its relationship with the crosstalk between leukemic cells and their microenvironment.
The second group is dedicated to normal and pathologic erythropoiesis on one hand, and to the in vitro production of hematopoietic stem and progenitor cells for the purpose of transfusion and cell therapy on the other hand.
The projects of the two groups share the need to understand the mechanisms that
Govern  cell fate and the commitment of hematopoietic stem and progenitor cell towards the various blood lineages.
Pr François DELHOMMEAU
Contact : francois.delhommeau@aphp.fr
https://www.crsa.fr/equipe-francois-delhommeau.html
Graft-versus-host reactions after allogenic hematopoietic stem cell transplantation
Our team is focused on immunological mechanism of action and side effects of immunotherapy and targeted therapy in the setting of hematological malignancies. In particular, we focus on allogeneic hematopoietic cell transplantation (allo-HCT) and graft-versus host reactions, CAR T-cells and monoclonal antibodies used for acute leukemia, lymphoma or multiple myeloma. We develop translational studies aiming to decipher the link between microbiota composition, immune system and clinical outcomes. Furthermore, we use in vitro experiments and animals' models to identify the underlying mechanisms of action. Overall, these approaches are dedicated towards development of new therapeutic strategies based on immune modulation through gut microbiota manipulation to improve patients' outcomes.
Pr Mohammad MOHTY
Contact : mohammad.mohty@inserm.fr
https://www.crsa.fr/equipe-mohamad-mohty.html
Metabolism and et Inflammation
Metabolic diseases and age-related joint pathologies
Our team associates physiologists, cell biologists and clinicians devoted to find new targets and new biomarkers in osteoarthritis, particularly by exploring the role of metabolic diseases, mechanical stress and bone/cartilage/synovial tissue interactions.
Our team has been interested for several years in the objective to discover innovative treatments and  biomarkers in osteoarthritis (OA). We have developed several tools, from cell cultures to human cohort, from preclinical murine models to joint tissue analysis. Our projects are focused on the relations between OA and metabolic diseases:
Role of innate immunity in OA
Role of chondrocyte differentiation on bone angiogenesis
Role of the cholinergic system in OA
Role of adipose tissues in OA
 Pr Francis BERENBAUM
Contact : francis.berenbaum@aphp.fr
https://www.crsa.fr/equipe-francis-berenbaum.html
Cystic fibrosis physiopathology and phenogenomics
Our team develops projects related to cystic fibrosis (CF). We coordinate the national research study on modifier genes in which nearly 5,000 patients are participating. We have shown genes associated with the severity of several CF disorders as well as drug response, and characterize them functionally. We have developed a therapeutic molecule that modulates chloride efflux, and are analyzing its effects in vitro and in vivo prior to clinical application. We are analyzing various parameters associated with the exacerbated inflammatory response, in particular miRNAs. We study the infectious response to different pathogens, Pseudomonas aeruginosa, Staphylococcus aureus and Aspergillus fumigatus in particular, in order to understand the processes involved in the chronicisation of infections in CF patients.  We examine the role of antimicrobial peptides in the innate defense against these infections and their potential therapeutic application.
Pr Harriet CORVOL
Contact : harriet.corvol@aphp.fr
https://www.crsa.fr/equipe-harriet-corvol.html
Immune system and neuro-inflammation
Accumulating evidence support a key instrumental involvement of brain innate neuroinflammation and peripheral immunity in neurodegenerative diseases and other neurological disorders. Our studies aim at addressing the role of recently emerging aspects of innate and adaptive neuroimmune interactions in the pathophysiology of Alzheimer's disease and Tauopathies, as well as other neuroinflammatory and/or neurovascular conditions (cerebral amyloid angiopathy, stroke, epilepsy). Our research strategy is based on a translational approach combining pre-clinical studies in transgenic mouse models, together with transversal and longitudinal clinical studies. We aim at developing innovative disease-modifying immunotherapy approaches and new blood-based immune biomarkers in such pathologies.
Dr Guillaume DOROTHEE
Contact : guillaume.dorothee@inserm.fr
https://www.crsa.fr/equipe-guillaume-dorothe-e.html
Lipodystrophies, metabolic and hormonal adaptations, and aging
Our team works on the pathophysiological mechanisms of lipodystrophies either of genetic, or acquired origin (during HIV infection or chronic glucocorticoid treatment), and on the related reproductive disorders.
Lipodystrophic syndromes are characterized by a defect in adipose tissue distribution and function, with potential metabolic, cardiovascular, and reproductive consequences. Thanks to in vivo (animal models, patient cohorts) and in vitro models we aim to: (i) understand the clinical and pathophysiological links between lipodystrophies, insulin resistance, adipose tissue aging, cardio-metabolic complications, and reproductive disorders; (ii) identify new therapeutic tools.
Pr Bruno FEVE
Contact : bruno.feve@inserm.fr
https://www.crsa.fr/equipe-bruno-feve.html
Neuroendocrine mechanisms of longevity and age-related diseases
This lab published groundbreaking work on insulin-like growth factors (IGFs) and aging, and is now focused on somatotropic signaling in longevity, regeneration and Alzheimer disease (AD). We showed that suppression of IGF-1R in stem cells enhances neurogenesis in the aging brain. We revealed that adult mice with ubiquitous disruption of IGF signaling are lean with resilient energy metabolism, creating an exciting new model for studying somatotropins in aging. We showed that blocking IGF signaling in neurons alleviates AD, identifying IGF-1R as a promising target for preventing neurodegeneration. To learn more about IGFs in health and longevity, we are investigating cellular and molecular mechanisms of IGF signaling in AD, and studying the role of IGFs in cellular homeostasis during aging.
Dr Martin HOLZENBERGER
Contact : martin.holzenberger@inserm.fr
https://www.crsa.fr/equipe-martin-holzenberger.html
Metabolic and biliary fibro-inflammatory diseases of the liver
Our research is dedicated to liver diseases, focusing on cholangiopathies. We investigate genetic deficiencies in the ABCB4 phosphatidyl-choline transporter, responsible for hereditary biliary diseases, the mechanisms of cell death that promote liver inflammation and fibrosis, and the sub-populations of liver myofibroblasts implicated in liver fibrosis and cholangiocarcinoma stroma. We combine cohort and experimental studies as well as clinical trials, to develop therapeutic innovations in these rare diseases and more frequent liver diseases including NAFLD and viral hepatitis B. Strategies combining serum tests, elastometry and magnetic resonance imaging, are also designed to develop predictive tests in liver diseases, which altogether represent a major health burden worldwide.
Pr Chantal HOUSSET
Contact : chantal.housset@inserm.fr
https://www.crsa.fr/equipe-chantal-housset.html
IGF system and foetal and postnatal growth
Fetal and post-natal growth is under the control of genetic, epigenetic and environmental factors. We are studying the pathophysiology of fetal growth linked to imprinted diseases in patients born small for gestational age or with excessive growth. In mice we are studying the mechanisms involved in the programming of growth and cardio-metabolic pathologies when perinatal nutrition is modified.
Our objectives are to improve the early detection of fetal growth abnormalities and childhood tumors and to understand the regulation of growth and metabolism, in order to propose new treatment strategies aimed at improving fetal growth, metabolism and tumor prognosis.
Pr Irène NETCHINE
Contact : irene.netchine@aphp.fr
https://www.crsa.fr/equipe-irene-netchine.html
Microbiota, gut and inflammation
Our main goal is to decipher the mechanisms underlying host-microbiota interactions in health and disease, particularly inflammatory bowel diseases. Our projects are based on complementary expertise, such as gastroenterology, intestinal microbiota ecology, intestinal epithelial cells physiology, analysis of hydrophobic molecules in the intestinal environment and host-microbe immune interactions. These skills, at the frontier of cell biology, immunology, microbiology and medicine, allow us to conduct extensive studies from bedside to bench and back again.
Pr Philippe SEKSIK & Pr Harry SOKOL
Contacts : philippe.seksik@aphp.fr / harry.sokol@aphp.fr
https://www.crsa.fr/equipe-philippe-seksik.html
Assistant
Autres tutelles
Institut National de la Santé et de la Recherche Médicale | INSERM
Sorbonne Université
Coordonnées
Adresse physique
Faculté de Médecine Sorbonne Université Site Saint-Antoine
75571 Paris cedex 12