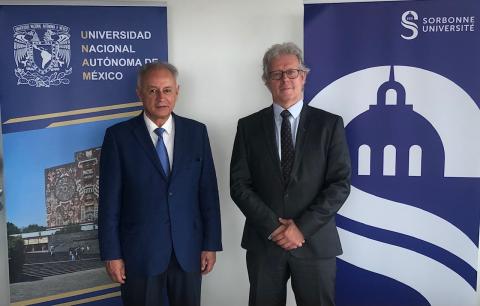 Sorbonne University and UNAM Strengthen Their Strategic Partnership
Last week, Sorbonne University hosted a visit from the National Autonomous University of Mexico (UNAM) in Paris, to further develop our longstanding strategic partnership.
An exciting international summer school program from UNAM and Sorbonne University will also be launched next month.
Dr Francisco Trigo, UNAM's Vice-Provost for International Affairs, visited Sorbonne University's Pierre and Marie Curie Campus last week on May 23rd, 2022. Notably, he met with Sorbonne University's Vice President for International Relations and Territorial and Socio-Economic Partnerships, Guillaume Fiquet, to discuss the partnership and its ongoing developments. Trigo also participated in meetings with academic and administrative representatives from both UNAM's Paris bureau and Sorbonne University, working on topics such as research projects, joint programs, collaborative actions in Artificial Intelligence, and the partnership's existing Chair of Excellence. 
Sorbonne University and UNAM are also set to launch a new international summer school program in June: "The instrument of tomorrow": a cardboard harp?
This collaborative program between Sorbonne University's Collegium Musicæ, the Pop'Harpe Association, and UNAM, primarily seeks to encourage research in organological, iconographic and acoustic analysis of the harp. It aims to develop pedagogical, economic and sociological studies related to the instrument in France and Mexico, as well as to foster collaboration and exchange among musicians, musicologists, acousticians and instrument makers. Participants will undertake courses in the construction of cardboard harps, learn to create interpersonal links within the research community, follow courses on the iconography of different types of harps and their uses in the interpretation of medieval and traditional Mexican music, and widen their sociological perspectives. 
This summer school program encapsulates many of the characteristics integral to Sorbonne University's partnership with UNAM: ambition, innovation, multidisciplinarity and open exchange. It also marks the expansion of our partnership into explorations of music. 
Furthermore, Dr Trigo's recent meetings with Sorbonne University representatives reinforced the formal commitment of both institutions to the continuation of collaborative actions driven by common values. 
Read more about our proud partnership with UNAM.
Pictured: Francisco Trigo (L) with Guillaume Fiquet, in Paris on May 23rd, 2022.