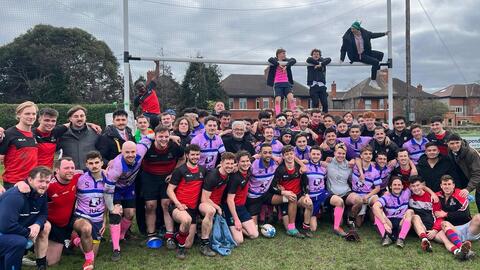 Rugby, Medicine, and the Importance of Upholding Traditions
Last month, the Faculty of Medicine of Sorbonne University's Petits Cochons rugby team travelled to Ireland to continue a proud tradition. For thirty years now, medical students from Sorbonne University have played an annual rugby match with their Irish peers from the Royal College of Surgeons in Ireland.  
Raphaël Cochelin works at Sorbonne University in logistics, and is the coach of the Petits Cochons.
Hello, Raphaël. You have just returned from Dublin, where your team played against the Royal College of Surgeons in Ireland. How was the match?
 
Raphaël Cochelin: The game dictated a very high level, both technically and physically, with both teams fighting hard and with lots of emotion. The Irish proved better in the decisiveness of their actions, and it made the difference; they came away with the win. We know where we went wrong, and we will make sure to prepare ourselves as much as possible for next year's game.
This annual match has been taking place for 30 years now! How did the tradition start?
R.C: As Mr. Uzan explained to us, this tradition began in 1991 when students from the Saint-Antoine faculty put Gilbert Béréziat and Alan Johnson, respectively the former directors at the two faculties of medicine—and rugby fans— in contact with each other. The two men had already known each other thanks to their work in molecular biochemistry, they had a brief exchange, and since that day, every year (excluding the 2 years of Covid-19), the match and inter-faculty meeting have taken place.
 
And why is it important for it to continue?
R.C: It's important to keep this tradition alive across generations. First, it's a chance for all of us to be able to have this enriching university encounter. We discover a rugby style that is vastly different from French rugby, which enables us to be inspired by their style of play and improve our own. Beyond the sport, the tradition is also rich in cultural and social exchange. A kind of magic occurs when we welcome our Irish friends and vice versa. It's like we're growing up together on different sides of the Channel. The years go by, the encounters continue and we see faces becoming more and more familiar, faces that become, over a period of five days, like brothers.
But that's only prior to and after the match, of course. During the match itself, it's a different story!
It's like we're growing up together, on different sides of the Channel.
Raphaël Cochelin
Tell us: how do medicine and rugby align? What is the link?
R.C: Rugby is nothing without solidarity, communication, mutual support and trust between players. All these skills can only be beneficial for a healthier approach to medicine. The cohesion of a medical/paramedical team is the pillar of good patient care. Rugby is also about rigor, repetition and regularity. This striving for perfection rubs off on our studies and our rigorous work and learning.
Rugby is also about blows, bad moments in defeat, disillusionment. All these hard moments prepare us for some of the more trying experiences of medicine. Finally, rugby is above all about experiencing unity, new friends and joy, all of which makes us better doctors.
Rugby teaches us important values that will accompany us through life.
 
Next year, Sorbonne University will be hosting the match in Paris. How will you welcome the Irish team?
R.C: We are already looking forward to having the Irish team here. We plan on welcoming them with an even better prepared and more determined team. Every year we aim to raise the bar a little higher and this time we intend to make their trip unforgettable.
How can students get involved?
R.C: Students can participate in this historic event by joining the Petits Cochons (Little Pigs) rugby association, where we're always happy to welcome new players no matter their level of experience. The Petits Cochons are a big family, and we're only looking to grow.
As for hosting the Irish next year, many associations are involved: starting with the Wolfapack, who cheer us on with dazzling spectacle, the marching band that can be heard all the way to Dublin, the Solsu that supplies us with everything we need, and many other groups. During this period, many students get involved to welcome our adversaries, and especially to defend the Sorbonne University colors!
Photos courtesy of O'Flanagan Photography.