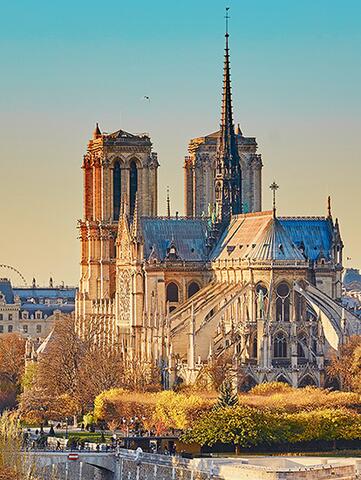 Looking for Notre-Dame: an immersive historical podcast
Looking for Notre-Dame is an immersive sound experience featuring the young Victor Hugo as he researches and writes his novel Notre-Dame de Paris. Listeners journey through the soundscapes and acoustic reconstructions of Notre-Dame from the 12th to the 19th century.
This four-part podcast takes us back through the centuries to the heart of Notre-Dame Cathedral in Paris. Produced as part of the multidisciplinary research project, PHE/ND - "THE PAST HAS EARS AT NOTRE DAME" - it draws on work carried out by several Sorbonne University institutes: IReMus, Institut Jean le rond ∂'Alembert and Centre André-Chastel, in partnership with Sunmetron, Conservatoire National Supérieur de Musique et de Danse de Paris, Maison des Sciences de l'Homme Lyon Saint-Étienne and Agence NARRATIVE. Scientific coordination was provided by acoustician Brian Katz, who for many years has been conducting a series of studies at Notre-Dame to document the site's unique acoustics.
An immersive historical fiction
The series follows the young Victor Hugo in 1828, as he begins his research in preparation of his novel, Notre-Dame de Paris (The Hunchback of Notre Dame). We discover the dying cathedral, long before its restoration by Viollet-le-Duc and Jean-Baptiste Lassus began in 1843. Victor Hugo endeavors to resurrect Notre-Dame as it was in the Middle Ages, exploring the different acoustics and soundscapes that marked past centuries.
Throughout the story, the protagonist meets a number of characters who help him in his research: priests, historians, musicians, Viollet-le-Duc and Mérimée. Inspired by his visits to the cathedral, his consultation of manuscripts and history books, and his fertile imagination nourished by polyphony and the Mysteries of the Middle Ages, Victor Hugo embarks on a veritable investigation into the sound of Notre-Dame.
A unique acoustic experience
The immersive sound experience offers exceptional quality thanks to anechoic chamber and studio recording, as well as 3D spatialization of the sound. Listeners will hear the acoustics of the cathedral at different times, as well as soundscapes such as the sounds of the construction site, a 17th-century funeral oration by Bossuet, and 18th-century bells and organ.
A website accompanies the audio series, detailing the "Research Objects" illustrated in this adventure, offering an even deeper immersion into the world of Notre-Dame.
Listen to the podcast episodes, available in French and in English, HERE