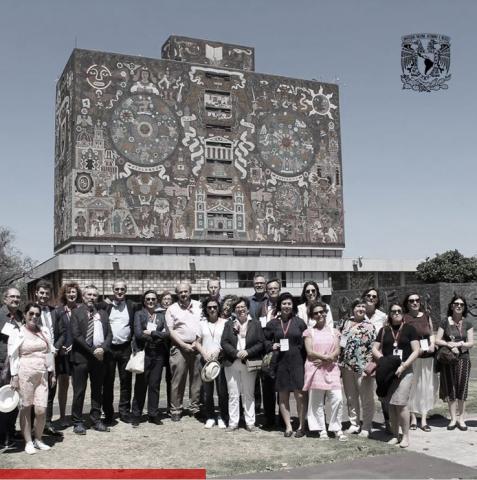 How Sorbonne University's Chemistry Department is Generating New Collaborations
With their webinar series in partnership with UNAM in full swing, IPCM Director of Research Corinne Aubert, CNRS researcher Lydia Sosa-Vargas, and researcher and TASSEP coordinator Anne-Lise Poquet outline the results garnered so far and their hopes for upcoming projects.
How many people are you reaching with this webinar series? 
The webinars started on March 8 with the intention of having two seminars per month. In the first three seminars, we had 286 participants made up of academic researchers, researchers, doctoral candidates, post-doctoral students and Master's students. They belong mainly to the Instituto de Quimica (IQ) at UNAM, and the Chemistry faculty of Sorbonne University. Several people from the Instituto de Fisica (IF)-UNAM, the Instituto de Investigaciones de Materiales (IIM) and other Mexican and European universities also participated. 
Have these webinars played a role in generating new scientific collaborations?
These webinars are intended to bring together researchers from both institutions whose research is complementary and for whom there is an opportunity to initiate scientific collaboration. The format of these short conferences is designed to provide an overview of the focus areas of the researcher and their team, and to promote scientific exchanges between the speakers and their audience.
In each case, we have tried to unite people with similar research interests to promote scientific exchanges.  
Will these webinars also initiate new student exchanges? 
Our approach with these webinars is to integrate student mobility at the undergraduate, master's and doctoral levels as a driving force for scientific collaboration. These programs will be based on research training in the form of internships.
Exchanges that run for a semester will also be offered by both institutions, with students from both universities able to take courses at their partner school.
What can we expect from upcoming sessions? 
We will continue these bi-monthly webinars until the summer vacation period. After that, we are planning additional events such as thematic workshops and the inclusion of chemistry as a theme in Sorbonne University's upcoming Mexico month. A first workshop dedicated to catalysis and organometallics is already scheduled for Thursday, May 20, which will bring together six people from both institutions.
In the long term (and when public health conditions allow it), we plan to organize summer and winter schools shared between the two countries.
If you're a member of Sorbonne University or UNAM's internal community, find out more information on these upcoming webinars by logging into the intranet.
 
Corinne Aubert, Lydia Sosa-Vargas and Anne-Lise Poquet exchanging with their colleagues in Mexico: