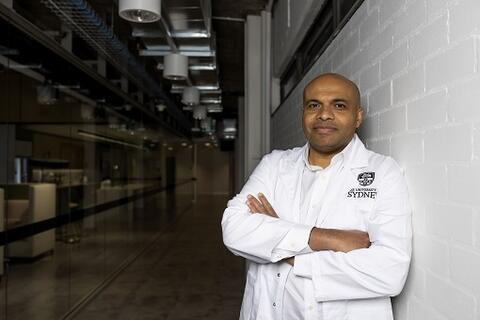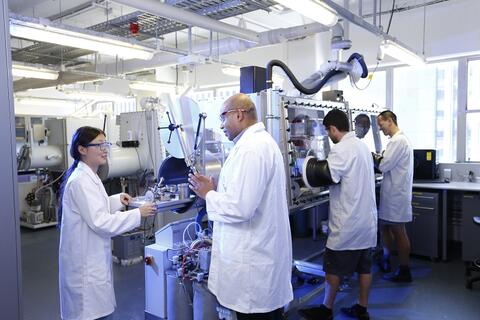 "Collaboration is the only way to accelerate progress."
Interview with the University of Sydney's Professor Francois Aguey-Zinsou.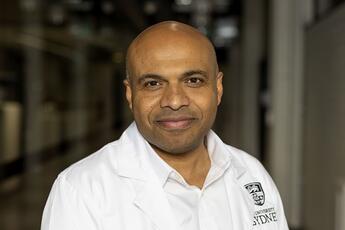 Francois Aguey-Zinsou is a professor of Chemistry at the University of Sydney, where he works on hydrogen technologies. He is also an alumnus of Sorbonne University, having completed his PhD in heterogeneous catalysis in 2001.
With strong links to both France and Australia, he is also the co-director of FACES, a CNRS-led international research network between the two countries.
On the occasion of Sorbonne University's recent delegation to the University of Sydney, Aguey-Zinsou sat down with us to talk about the common strengths of our institutions, the power of international collaboration, and how his research could change—and preserve—the future of our society.
Hi, Francois. Could you tell us a bit about your research expertise?
My research expertise is centered on hydrogen technologies. In my lab, we do a lot of work around developing materials to store hydrogen, as well as technology to produce hydrogen, and in particular to use hydrogen in fuel cells that will be relatively cheap for individuals to use in their home. We also do a lot of work in catalysis.
What are some of the common strengths between Sorbonne University and the University of Sydney?
I think both universities have a strong history of trying to do the right things in the right way, and in remaining at the forefront of research. When I did my PhD in France, it was in one of the top labs for catalysis, and I know that the University of Sydney is also doing a lot of intensive research at a very high level, and across a range of different areas. There are many dedicated colleagues at both institutions pushing for progress.
What about synergies and differences between our two countries more broadly?
There is a lot of synergy between what we do here and in France, although the two countries are very far apart. We certainly have strong links, and while we also have many differences, the two countries complement each other in various ways.
In Australia, we actually have a certain degree of freedom to test the best technologies, which isn't necessarily the case in France. In addition, although we have a lower critical mass, we are very focused on developing key technologies. Within these, we have some very useful expertise that I think is complementary to the more fundamental research approach of Sorbonne University. It's a more applied and application-driven research approach that we are doing here.
Why is collaboration important?
Well, we have a range of challenges in front of us, climate change being one of them. How do we achieve the transition of our entire society to greener technologies, to a new economic model? We cannot do it alone, because we don't have two centuries to achieve it; we have about twenty-to-forty years. Collaboration is the only way to accelerate progress.
The University of Sydney has, for its part, the UN's Sustainable Development Goals as guiding principles for their research. Sorbonne University has these same guiding principles, and so we can use these complementarities to come up with solutions.
This is important because the required solutions must be universal in order to have a real impact. Climate change is not just about the emissions of the Australian people or of the French people, it's about all global emissions and -global transition.
What is the biggest challenge in your current research?
As is the case for many researchers, funding is always a challenge. We have a different system than in France. Here, we have to go looking for funding, and there is much less money for research in Australia compared to the French sector and the EU. So while I have plenty ideas that I wish I could develop, at the end of the day it depends on the level of funding I have access to.
In terms of scientific challenges, going back to the climate transition, one challenge is that everybody wants technologies that are ready to go, without understanding the need for the research behind it. There is an expectation—take the mobile phone for example—that it came out of nowhere, without investment or research. The first mobile phone was something very simple, and very expensive, yet the expectation is that we can bypass all this without recognition of the amount of research and development that needs to be done behind it.
So this comes back to the need for funding, as well as a clear strategy from our respective governments on where we should be going.
How has working and studying internationally enriched your professional path?
It's really about taking yourself outside of your comfort zone and starting to have other people contributing to the research. The problem is that when you start to work within your community, you often end up with the same ideas circulating, which means that the community doesn't really progress. It's only by having interactions with other communities—which is difficult to do sometimes—that ideas can progress further.
For example, in my field now, we have been blocked for quite some time from finding better materials for storing hydrogen. The field is not progressing a lot, and I think it's because we are turning around the same ideas. And so really the question is: How do we get ourselves out of our boxes and start to think beyond that? What are the things we can learn from other fields that could help us unlock the current bottleneck we have?
International collaboration works well when people know each other, when they have been working together for a while. Personally, I would like to see an international lab established between several countries across the energy issue. These are hard to establish as you need to find the funding and the people with the right mindset.
What do you hope our partnership produces?
Well, as a former student of Sorbonne University, I would like to see the two universities working together. It can be hard because of the cultural differences and the different ways of operating at both universities; aligning them takes time. I always say that if you get two researchers in a room and give them a bit of money, they will always find ways to do research, so that's not really the issue. It's really about establishing the network and seeing how we can really work together. I think if this can be done, then it will lead to some great opportunities, not only for building international labs but also for developing new concepts.