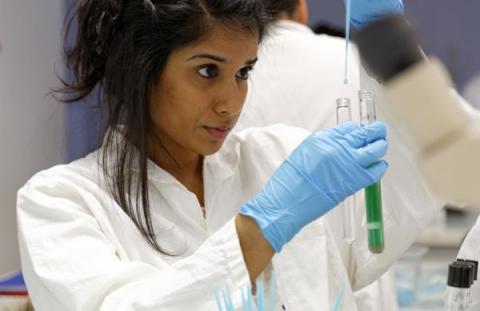 Goals
Welcome to the Future is based on exclusive scientific partnerships and strongly innovative projects. By taking a completely new approach to traditional models of research and education, we want to build the future of mankind, starting right now. Our impact is guaranteed by the unique alliance between the humanities, science and medicine. Our goal: raise €100 million by the year 2022, to turn Sorbonne University into a driving influence on the contemporary world, equipped with the many resources necessary to understand the key issues in our society and provide concrete responses.
Three questions for Jean Chambaz, President of Sorbonne University
What is unique about Sorbonne University?

Sorbonne University was created through the merger of two Parisian research universities—among the most prestigious in France. In order to respond to today's pressing issues and meet the challenges of tomorrow, we thought it essential to be able to draw on a broad range of knowledge. So we brought together natural sciences, medicine, the humanities, and the human and social sciences into a single institution that is distinguished by its venerable tradition, the prestige of its academic program, and the reputation of its research institutes.
How do you envision the University evolving over time?

We need to be better equipped to accomplish our mission, to comprehend, prepare and guide the transformation of our society and the world. This is why for several years now we have offered our students bi-disciplinary degree programs that reinforce their critical thinking skills. Likewise in research, our colleagues take on topics that bring together a group of complementary disciplines that showcase multi-disciplinarity, which in turn is nourished by excellence. At the same time, we want to take part in the exploration, preparation, and support of the digital revolution in society and the economy. More globally, we're working to expand the confines of knowledge as a tool for the common good of all humanity, and for responsible development in social and ecological terms. It is with these challenges in mind that we encourage sponsors to join us, to participate in this adventure of humanity and this aspiration that we proudly declare: to better serve society.
What will the "Welcome to the Future" campaign's impact be on Sorbonne University attaining its goals?

These important goals require resources that are equal to the task. The Sorbonne University Foundation has been a pioneer in the field in recent years, helping us create research chairs and academic projects, recruit eminent researchers, purchase equipment, and offer concrete financial aid to promising students from disadvantaged backgrounds, or young women interested in careers in the sciences. These impressive results make us want to expand the overall scope of these tools through the fundraising campaign Welcome to the Future. This is one of my goals for the years to come. I hope that in ten years we will have consolidated the trust of our donors, made concrete progress, and that the leadership of Sorbonne University will have been reinforced at an international level. I imagine a vibrant campus where people will live, study and work, in an space that fosters personal and collective growth—a prerequisite for accomplishing this extraordinary mission of ours: transmitting knowledge, better understanding the problems of the world, finding solutions for them, and inspiring enthusiasm in young students so they will take up the mantle and continue to pursue the path set out by Sorbonne University.