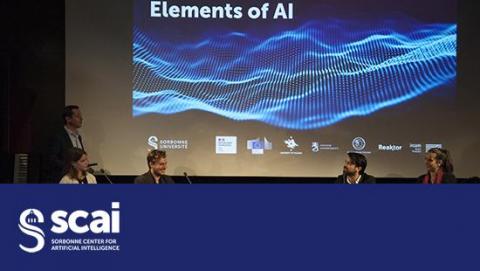 Teach Yourself About Artificial Intelligence
Elements of AI, an educational platform, is available online in both English and French.
Developed by the University of Helsinki and the company Reaktor, this free online course aims to train one percent of European citizens in the fundamentals of artificial intelligence (AI) by 2021. In France, this training is led by Philippe Esling, an associate professor in computer science at the Faculty of Science & Engineering and a researcher in AI at Ircam (a music research and coordination institute).
This course is intended for anyone interested in AI without any prerequisite in programming or mathematics. Its objective is to democratize AI by giving everyone, regardless of income or education level, the necessary tools to understand the world of tomorrow through the prism of this new technology.
Over the course of 30 to 60 hours, participants will be shown the implications of AI in real life situations using interactive exercises. Composed of six modules, it addresses concepts such as neural networks, machine learning and societal issues.
The course includes both automatically managed exercises (multiple choice) and more open, interactive questions, as well as a forum for discussion with teachers.
To take the courses or learn more about them, visit the website.