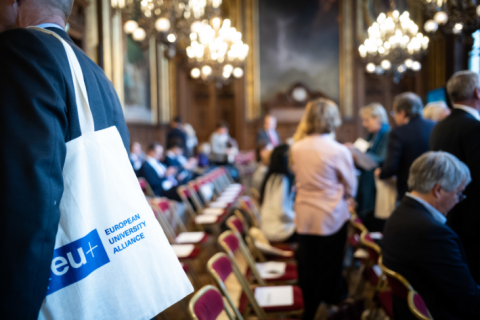 Live on YouTube: https://www.youtube.com/watch?v=mMnZaT7NUxM&feature=youtu.be
Join us online for this year's Annual Meeting of the 4EU+ Alliance, taking place on Monday 16th November 2020 and organized by Charles University in Prague.
The Open Session of the Annual Meeting, organized in partnership with the Ministry of Foreign Affairs of the Czech Republic, will start at 4pm, and all partners and friends of the 4EU+ European University Alliance are invited to join. The main outcomes of the morning's micro think-tanks sessions will be shared, along with news on Flagship projects, and a "round-table" discussion will be held on the topic "4EU+ as a prototype for synergy between research and education."
The Open Session will be broadcast live on YouTube: https://www.youtube.com/watch?v=mMnZaT7NUxM&feature=youtu.be