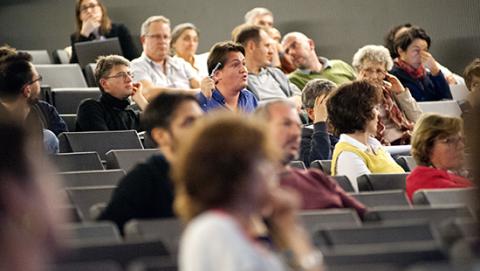 The Science House
The Paris Île-de-France Maison pour la science ("The Science House") offers the primary and secondary school teachers in Paris, a series of professional development courses in science, bringing them closer to the science and technologies being developed in research laboratories. 
The fruits of a partnership between Sorbonne University and the Paris Rectorate, the Paris-Île-de-France The Science House joins the existing network of 10 Regional Houses, supported by the Academy of Sciences and coordinated by the Fondation La main à la pâte.
Professional development for Parisian teachers
Starting in the 2019-2020 academic year, The Science House will be implementing educational courses based on an investigative approach, questioning our daily lives dealing with scientific and interdisciplinary themes such as "Climate and me", "Teaching biodiversity in the city" or "Food and health", which are among the seven themes offered to Parisian teachers.
Through these actions, The Science House helps bring together the educational, scientific and industrial communities, made up of engineers, researchers and academic researchers with teachers from the French National Education system to co-construct coherent actions that reflect current research and are in line with school curricula.

The Paris Île-de-France Maison pour la science was inaugurated on 16 October 2019 on the Pierre and Marie Curie campus of Sorbonne University.