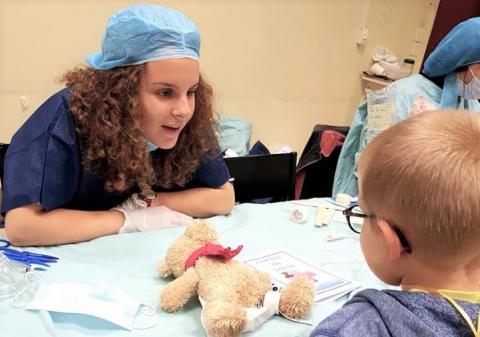 The Teddy Bear Hospital
Students from the Faculty of Medicine introduce children to the hospital.
Every year before the summer, students at the Faculty of Medicine introduce the youngest children to the world of hospitals through the Teddy Bear Hospital, a public health initiative set up by the French national association of medical students (ANEMF). About fifteen classes from the kindergarten sections take part in the event and immerse themselves in the world of health in a fun and educational way.
Pénélope Bouvet, a third-year medical student at Sorbonne University, is the project leader.
"First, we meet the children in their classrooms in small groups of two or three students," she explains. There, we invite them to talk about how they see hospitals and medical fields, and for some of them, to share their experiences in the medical world. After this first introduction, the future doctors present the Teddy Bear Hospital. This scheme, run by student volunteers, allows the young children to experience an entire care pathway as a companion to their teddy bear, who plays the role of the patient.
"In class, they are given a list of fairly basic illnesses, and the children choose one that they attribute to their teddy bear."
A few days later, the classes are invited to spend a whole afternoon in a hospital created especially for them on the premises of the Sorbonne University Faculty of Medicine. About a hundred students are mobilised to welcome the pupils. "They set up fake stands for consultations, infirmary, physiotherapy, radiology and even surgery," explains the representative. The children wander between workshops to get their little stuffed animal treated: the doctor weighs, measures the teddy bear and listens to its heart, the nurses give it vaccinations and take blood samples, while the physiotherapist examines its mobility and other exams. Among a whole range of treatments, cuddly toys can even get X-rays and MRIs on cardboard machines made by the students.
Two weeks after this immersive afternoon, students return to the kindergarten in their classrooms to check on the health of their stuffed animals and assess what the children have understood. For many, the experience helped them overcome their fear of the professionals in white coats. For the medical students,, it will have taught them to adapt thir explanations to a very young audience. "It's a good way to train ourselves to be teachers and to develop our listening skills," concludes the medical student.
On a national level, the Teddy Bear Hospital is present in all 38 French medical schools, and welcomes more than 10,000 children each year.