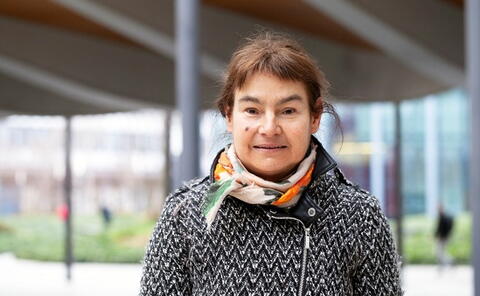 Sorbonne University Alliance
Education
A new course on the ethical issues of AI
Anouk Barberousse is a professor of philosophy of science at Sorbonne University. She is interested in "artificial intelligence and democracy", so she therefore set up a course on the ethical issues of artificial intelligence in partnership with SCAI and 4EU+ member universities. She explains here the ins and outs of the program.
Who is this course for?
Anouk Barberousse: This free course is intended for all members of the 4EU+ Alliance community who are interested in artificial intelligence and the ethical, social and legal aspects it covers. Within Sorbonne University, it is designed for students and staff across all faculties, regardless of the participants' initial education and level.
What are its objectives and challenges?
A.B.: The aim is to provide an overview of the state of ethical, political and legal reflection related to the use and design of artificial intelligence algorithms, particularly in Europe. Because many students will have to code or use these kinds of AI tools, it is essential that they have context to ask themselves the right questions. However, these aspects are rarely taught in computer science or robotics courses.
What questions will be covered in this course?
A.B.: We have tried to cover the uses of artificial intelligence in society and industry, which may raise questions such as economic development, legal decision-making, discrimination, health data and its use in research programs, data protection, mass surveillance, and more. We evaluate these aspects by taking a number of different approaches to this issue.
We have chosen to use thematic examples to illustrate the ethical and political issues. One of the courses is also dedicated to improving administrations through AI since many government agencies are already using it. We have also planned a course on the governance of artificial intelligence in the European Union because of the European dimension of our consortium.
What is the pedagogical innovation in this course?
A.B.: This original and innovative course does not require any particular prerequisites, except for English. It consists of eleven independent modules that can be done in any order: epistemology of artificial intelligence, the role of statistics in AI, democracy, bias and discrimination, the politics of the European Union, and the list goes on.
It takes about two hours to cover an entire module: lectures, further readings and quizzes. In order to earn the badge and certificate, a final quiz must be taken, but also a short essay must be written that will be evaluated by peers and oneself, but also evaluate the essays of others.
It is also necessary to write an entry in the glossary we are developing on artificial intelligence and its uses in society.
All those who complete the module can ask questions and watch how it is organized to respond.
This is a course was created in partnership with colleagues from 4EU+. Can you tell us how it was developed?
A.B.: The consortium was set up during the summer of 2021. At the Sorbonne Center for Artificial Intelligence (SCAI), there are a certain number of players in the field of artificial intelligence and robotics who have a reflective approach and who are keen to pass on their knowledge. Moreover, in the partner universities, and in particular in Milan, many lawyers are working on artificial intelligence and European regulation.
So we worked together on this theme. A pedagogical engineer helped us to format, articulate and standardize the elements of the course.
How will the project continue in the future?
A.B.: The field of artificial intelligence is evolving very rapidly. With the support of the university, we are planning to set up annual workshops with the doctoral students of 4EU+ Alliance who are working on these subjects. The objective is to be able to propose, on the basis of the research work in progress, new pedagogical contents to our students, and thus make this course evolve regularly.