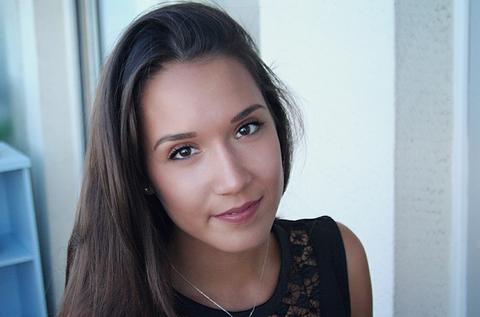 Athina Tsilikas
Student in Humanities - Edition - Audiovisual - Media on an Erasmus exchange
I advise all students to leave for an Erasmus exchange. This year was an amazing journey that allowed me to test my limits, learn to adapt and think about what I really wanted in my life.
Passionate about writing, linguistics and the study of literary texts, Athina Tsilikas is a third-year undergraduate student in a Humanities – Edition – Audiovisual - Media program at the Faculty of Arts and Humanities. She chose to go on an Erasmus exchange for nine months in her country of origin, Greece.
Why did you do an Erasmus exchange and choose Greece as a destination?
I am Franco-Greek. Born in France, I tried the Erasmus adventure with the goal of rediscovering my father's country and becoming totally bilingual in Greek.

Although I often spend summers in Greece, I have never been to Athens and I have always dreamed of studying in this city. I also wanted to take flight, become independent and discover another way of life and learning.
Did your local integration go smoothly?
My first days in Greece went well. The establishment's Erasmus hosting was very well organized and I immediately felt at ease. The integration was then very easy because I already spoke the language, which is a huge advantage.

The life I discovered there exceeded what I imagined. I was captivated by the way of life and the Greek mentality. Of course, daily life is different from that of Paris: wages are half the amount, food is much cheaper, public transport less developed (although very clean). However, there is a little something that makes life extraordinary. I think that as a Greek, I was even more touched by this country and I fell completely in love.
How were your classes?
The state of the premises at the Greek faculties is quite deplorable, but the level of education is very good. While the majority of language and literature courses were in French, I was also able to take courses in Greek and English.

Not having a good foundation in English, I also chose to take private lessons in Athens. Today, thanks to this and the fact of permanently practicing English in contact with other Erasmus students from all over the world, I progressed and spoke much more easily. I will also pass the Cambridge exam to have a certification recognized at the European level. I have also made a lot of progress in Greek and now consider myself bilingual.
How is student life?
Student life in Athens is very lively. The Greeks offered us wonderful trips throughout the country and throughout the year. The Erasmus association is also very involved and organizes events every week.

Beyond the Erasmus associations, Athens is full of unique and friendly places: coffee terraces, underground bars, live jazz, dance bars with Greek music or rock. There is something for every taste. Certain cultural aspects of the country also make everyday life very pleasant: we can, for example, drink a coffee or eat a pita (a sort of Greek kebab) at any time of the day, or visit, when we wish, the many ancient sites of the city.
And what are your plans for the future?
This year of mobility allowed me to clarify my professional project. I had planned for some time to pass the CELSA competition entrance exam in Business Communications and Institutions, but I still did not really know what I wanted to do.

Today, I know that I want to move towards institutional rather than business communication and to participate in the development of Franco-Greek relations. As soon as I have the opportunity, I will return to Greece to try my luck at the professional level.
Would you recommend the Erasmus experience to students?
I advise all students to leave for an Erasmus exchange. This year was an amazing journey that allowed me to test my limits, learn to adapt and think about what I really wanted in my life. Above all, it is an exceptional human adventure that enriched me a lot and made me grow.

You learn as much about the host country as you do about yourself. You are faced with new challenges like integrating a new university, reinventing a daily routine and manage a budget. You come out of this adventure more grown up and happy to have had the opportunity. This program is for me one of the best, if not the best, that Europe has developed.