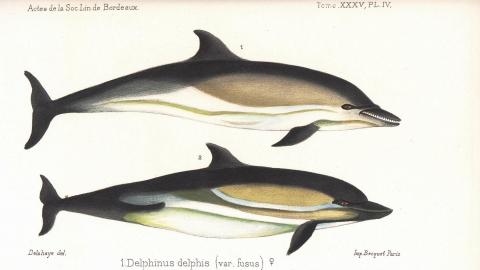 SorbonNum
Discover SorbonNum, the new digital heritage library of Sorbonne University.
The Sorbonne University Library (BSU) is pleased to present SorbonNum, the new digital heritage library of Sorbonne University. This project is part of the university's open science initiative, and represents a commitment to free access of scientific heritage.
SorbonNum aims to be the unique entry point into the scientific heritage collections of Sorbonne University. It will eventually provide access to all documents from the former digital library of the university, mainly in science and medicine, including Jean-Martin Charcot's manuscripts, correspondence from Robert de Montessus de Ballore, collections of printed works in physics, chemistry, geology, mathematics; theses of the Faculty of Sciences of Paris, etc.. More than a thousand documents (books, archives, journals, theses...) are already available, copywright-free and reusable.
SorbonNum will be enriched by future digitization campaigns carried out in conjunction with the three faculties, with the aim of reflecting the multidisciplinary nature of Sorbonne University and supporting transdisciplinary research. The BSU can also support digitization and online projects based on more specific research projects proposed by the community. A hundred or so historical theses dating from the 19th century, from the collections of the Faculty of Sciences in Paris, the archives of musicologist Pierre Aubry, a pioneer in medieval musicology, as well as those of zoologist Henri de Lacaze-Duthiers, whose bicentennial we are celebrating this year, are among the bodies of work that will be digitized in the short term and made accessible on the portal in 2022. 
Based on the Limb Gallery tool, used by many prestigious institutions (INHA, Mazarine, Institut de France, Reina Sofia Museum, etc.), SorbonNum offers fluid navigation, an advanced search mode for documents, as well as innovative services such as virtual exhibitions and collaborative annotation. 
It also provides access to the Musealia discovery cycle, which unveils an object from the university's heritage collections every month.
For more information: contact project managers Timothée Hulin et Adeline Batailler (BSU Collections Department).