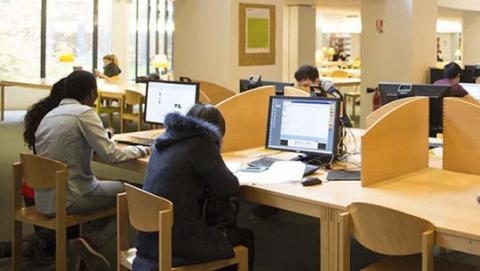 Tools and Resources
Sorbonne University provides its students with all the resources necessary for their success, on site or remotely, and to benefit from innovative teaching methods. Students have access to the entire network of Sorbonne University libraries, which offer co-working and modular workspaces, as well as online resources. Computer rooms and a Wifi zone are available. A digital workspace (ENT) is accessible to all. Sorbonne University is also committed to the development of student entrepreneurship. 
ENT
The digital workspace (ENT) brings together all the services and information for Sorbonne University students, including: administrative files, certificate of attendance, exam dates, transcripts, faculty news (room changes, absence of a professor, brochures), and messaging. 

This site is only accessible to Sorbonne University students. It gives access to the portal to obtain course documents, schedules, and e-learning.

Students also have access to their online courses on Moodle via their NDE.
Solo or co-working areas
Solo or in groups, work spaces are available to students:
50 group work rooms and 40 individual cubicles on the Pierre and Marie Curie campus. Bookable on the Burésa site.
20 group workrooms on the Faculty of Arts and Humanities sites. Bookable on the Affluences app.
1 coworking area with free access in graduate library on the Pierre and Marie Curie campus.
1 coworking space, 6 project development rooms and 1 meeting room for project development on the Pierre and Marie Curie campus. By reservation at the Student Life Space.
 
Online Resources
The Sorbonne University Library provides access to a host of electronic resources:
Browse through the list of electronic resources, then log in using your regular institutional account;
Discover ebooks and online journals in all fields of knowledge taught at the University. To search for them, go to the AZ Publication Finder.
If you have a specific question about searching for online resources, a subscription or an access problem... contact the BSU team who will answer you as soon as possible.
Multimedia rooms
A student card enables self-service access to specialised databases so students can carry out their dissertation and documentary research.

Clignancourt Campus - Room E06
Self-service according to the schedule available on the ENT from the end of September
Malesherbes Campus
Self-service according to the schedule available on the ENT from the end of September
Self-service research house according to the schedule available on the ENT from the end of September
Campus Pitié-Salpêtrière 91 bd de l'hôpital, salle 218
Monday to Friday 9 am - 6 pm
Campus Pierre et Marie Curie
Atrium, CAPSULE, 1er étage, salle 113
self-service, Monday to Friday 8am-7pm