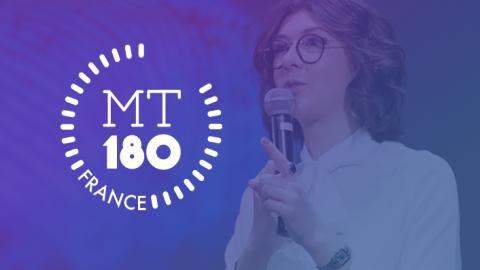 Competition: My Thesis in 180 seconds
Are you a doctoral candidate and want to make your research subject known beyond the confines of your laboratory and the academic sphere? The competition, "My Thesis in 180 seconds", is for you! In three minutes, and not one second more, you will be asked to make a clear, concise and yet convincing presentation of your research project. All using only one non-animated slide.
This is a great opportunity for you to open up to other disciplines, take a step back from your own work, foster contact with the scientific and socio-economic world, and, above all, hone your communication skills towards a lay audience.
This contest takes place every year. Doctoral candidates interested in the competition are selected, supported and initially compete within the Sorbonne University Alliance. The winners then represent the institutions of the Sorbonne University Alliance in the national semi-final, and then, if they are selected, in the national final, organised by the CPU (Conference of University Presidents) and the CNRS (French National Centre for Scientific Research).
Several doctoral candidates from our institutions have already been selected to participate in the national final: Eslem Ben Arous and Alexandra Sauvêtre in 2019, and Mathieu Buonafine in 2016, winning the first prize from the jury in the final. 
The Sorbonne University competition
Each year, the members of the Sorbonne University Alliance call for candidates to compete in the Sorbonne University Alliance final. Sixteen candidates are selected and receive training in preparation for the requested exercise. This mandatory training takes place over two days plus half a day of coaching. On the evening of the competition, two winners are chosen: one winner chosen by the audience and the winner chosen by the jury. The two winners represent the members of the Sorbonne University Alliance during the national semi-final. 
Typical annual calendar
November - January: pre-registration of interested PhD candidates
End of January: selection of candidates who will participate in the Sorbonne University finals
February - early March: training of candidates (mandatory)
March: Sorbonne University final
Early April: national semi-final
June: national final
September/October: international final