Sorbonne University Abu Dhabi
A diverse student body, modern innovation backed by centuries of academic excellence and a foundational commitment to celebrating difference... discover Sorbonne University Abu Dhabi.
A bridge between civilizations
Established in 2006 by agreement between Paris-Sorbonne University (now Sorbonne University) and the Government of Abu Dhabi, Sorbonne University Abu Dhabi represents the very best in international higher education. Degrees are issued by Sorbonne University, and students follow the French higher education system, ultimately undergoing a unique multicultural university  experience marked by rigorous academic training, a trilingual approach to teaching and learning with exceptional local and global links.
Sorbonne University Abu Dhabi's motto is 'A bridge between civilizations,' and it's easy to see why. As Vice Chancellor of Sorbonne University Abu Dhabi Prof Silvia Serrano comments:
Sorbonne University Abu Dhabi is a space in which different visions, ways of life and cultural traditions coexist in a context of mutual respect, a quality that enriches the entire university community.
This philosophy is demonstrated through the university's diverse student population of more than 90 nationalities. In keeping with this, degrees are offered in a range of fields: sciences, humanities, languages and social sciences; as well as in law, management and economics. All Sorbonne University Abu Dhabi degrees are accredited globally and follow the European Credit Transfer and Accumulation System (ECTS). They are also officially accredited by the UAE's Commission for Academic Accreditation (CAA). 
From the Vice Chancellor
Prof. Silvia Serrano, Vice Chancellor of Sorbonne University Abu Dhabi, is leading the university to a bright future full of innovation and collaboration. Here's her take on where the university is now, and where it's going:
"Sorbonne University Abu Dhabi is engaged in an ambitious development program, marked by the opening of new bachelor's and master's degree programs, the expansion of research activities and the strengthening of partnerships with businesses and public institutions. Developments in artificial intelligence are a great example of such new directions: high-level scientists and doctoral students will conduct their research at the Abu Dhabi branch of SCAI (The Sorbonne Center for Artificial Intelligence) thanks to two chairs of excellence created through a partnership with Thales and Total.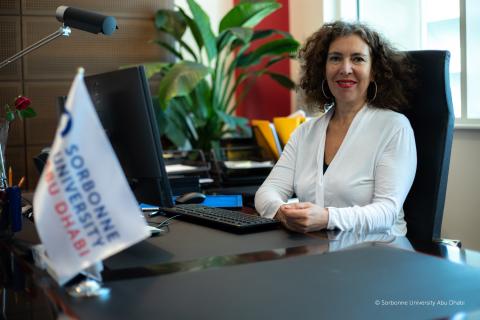 "A new bachelor's degree in mathematics, specializing in data sciences, is also now offered to students as of the 2020 academic year, with further programs to follow. Alongside undergraduate developments, Sorbonne University Abu Dhabi is positioning itself as a leader in international research, as well as strengthening its cooperation with universities, cultural institutions and local and regional companies. 
"These new dynamics, as well as a reinvigorated academic program, will increase the attractiveness of Sorbonne University Abu Dhabi to more and more students from more and more regions. Sorbonne University Abu Dhabi thus plays a key role in the development of Sorbonne University's internationalization strategy."
The Campus
In December 2009, Sorbonne University Abu Dhabi moved into its state-of-the-art, purpose-built, permanent campus on Al Reem Island in Abu Dhabi. The site boasts over 93,000 square meters of teaching, recreational and accommodation facilities, including a library, a 700-seat auditorium, a sports center and a cafeteria. Adding to the quality of campus life is the style of learning, which is marked by small class sizes, low staff-student ratios, very attentive professors and dynamic student engagement.