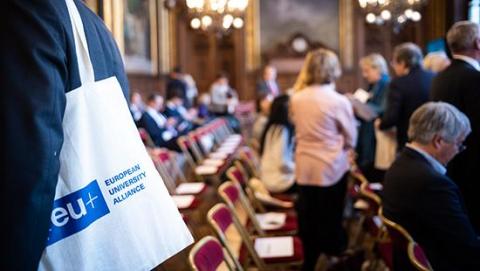 4EU+ Alliance
In 2017, Sorbonne University joined forces with Charles University in Prague (Czech Republic), Heidelberg (Germany) and Warsaw (Poland) universities to create 4EU, a European University. 
With the arrival of the universities of Milan (Italy) and Copenhagen (Denmark), an expanded alliance of six institutions, 4EU+ Alliance was established.
In 2022, the University of Geneva joined the alliance, bringing it to seven members.
The creation of the 4EU+ Alliance lays the foundation for an innovative European university model, designed to promote the free movement of people, ideas and practices. It builds on existing bilateral and multilateral collaborations. Since the creation of the Alliance, strong commitments on the part of administrative, management, academic and research teams have made it possible to develop over a hundred joint actions focusing on four priorities:
Health and demographic changes in urban areas
Europe in a changing world 
Transforming science and society through data
Biodiversity and sustainable development
In June 2019, the 4EU+ Alliance was a winner of the Erasmus + "European Universities" call for tender, and awarded with €5 million in funding—which will be matched at each national level and at the institutions themselves, arriving at a provisional budget of €15 million.
4EU+ is based on a common conception of the university and its missions: trans-disciplinary teaching nourished by research, promotion of pedagogical innovation, a mission at the service of society to meet major societal challenges. Within this framework, it supports the establishment of a free movement area, and thus promotes cutting-edge collaborative research and international academic programs leading to qualifications and individualized education.
4EU+ graduates sharpen their critical thinking skills and develop capabilities and qualities that are essential in the 21st century, such as understanding data issues and technology, and learning about entrepreneurship. 4EU+ is committed to increasing the reputations of all its member universities and to promoting their strengths and specificities.
4EU+ by the numbers
286,940 students 
23,680 scientific and academic staff
26,350 administrative staff 
243 Erasmus+ projects
Cumulative funding of €368M awarded from Horizon 2020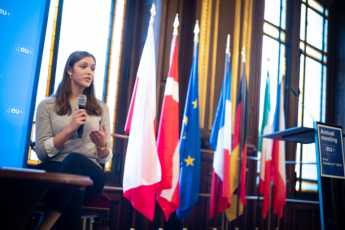 TRAIN4EU+
4EU+ recently received additional funding from Horizon 2020 in order to launch its TRAIN4EU+ program. 
Horizon 2020's "Science with and for society" call was designed to attract projects that would develop innovative ways of connecting science to society. TRAIN4EU+ responds to this call by supporting efforts to transform research and innovation (R&I), in particular the dissemination and integration of open scientific practices, the strengthening cooperation and co-creation with non-academic sectors, and the dematerialization of research support processes.
By developing a culture of co-learning, co-innovation, and evaluation of good practices within its members, the 4EU+ Alliance will apply a systematic methodology to identify the best models and procedures, and thus guarantee quality support to the scientific community.