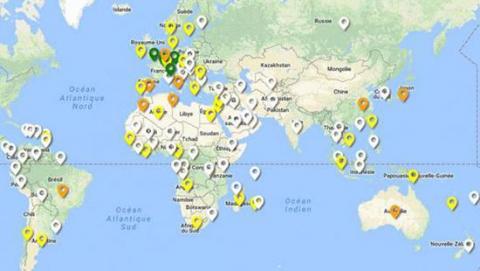 Sorbonne University worldwide
Sorbonne University is open to the world and pursues an ambitious international educational and research policy with a strong societal impact.
Sorbonne University Abu Dhabi:
Sorbonne University Abu Dhabi is a higher education institution that attracts the best students from the UAE and 80 other countries. Founded in 2006 after an agreement between Sorbonne University in Paris and the Government of Abu Dhabi, Sorbonne University Abu Dhabi offers the best in international higher education. Its students benefit from 760 years of academic excellence and learn on an ultra-modern campus located on Al Reem Island in Abu Dhabi.

Sorbonne University Abu Dhabi students are awarded degrees from Sorbonne University in the fields of human and social sciences and sciences and from the University de Paris in the fields of law, management and economics. The degrees are recognised worldwide, based on the European Credit Transfer System (ECTS) and are accredited by the UAE Ministry of Education.

In accordance with the philosophy of Sorbonne University, Sorbonne University Abu Dhabi ensures a rigorous academic experience. At present, the University has more than 1,700 graduates from 97 countries and promotes mutual respect, exchange of ideas and dialogue between cultures.
The Sino-French Institute of Renmin University of China (IFC Renmin)

The Sino-French Institute Renmin connects Sorbonne University with French higher education institutions (Université Paul-Valéry-Montpellier 3, Kedge Business School) and with a renowned Chinese university: Renmin University. As an integral component of the host university, The IFC Renmin aims to educate high-potential trilingual Chinese specialists in the fields of finance, economics, management, applied foreign languages and humanities. An exchange program in Bachelor and Master of Mathematics will commence at the beginning of the 2020 academic year.
 
Sorbonne University strategic partnerships:
Sorbonne University is a university that is open to the world and pursues an ambitious international education and research policy with a strong societal impact.

Sorbonne University and its alliance have thus created a network of strategic international partnerships. These partnerships cover all of the university's activities, aim to have a transformative effect and represent experimental laboratories. They involve student and staff mobility as well as collaborative research activities in areas of common interest. They concern the three faculties of the Sorbonne University, and are complemented by a number of targeted international initiatives implemented by a faculty or laboratory. 
Nanyang University of Technology (NTU)
National Autonomous University of Mexico (UNAM)
Indiana University 
Laval University 
Trinity College Dublin
University of Sydney
Renmin University of China
University of the Chinese Academy of Sciences
International University of Rabat
 
Language diversity as an asset:
Thanks to the Inter-University Language Learning Service (SIAL), all French and foreign students, doctoral students and Sorbonne University staff have access to language courses. Over thirty different languages are offered. 

The teaching of French as a foreign language (FLE) is offered free of charge to all foreign students enrolled at Sorbonne University in master and bachelor degree programs.

Sorbonne University guarantees excellent hosting and study conditions for students from all over the world. Sorbonne University has thus been selected by the Agence Universitaire de la Francophonie (AUF) to provide French courses to refugee and asylum-seeking students.

In addition, the French language examination department (SELFEE-Sorbonne University) offers foreign students the opportunity to prepare five recognised diplomas, corresponding to five levels of knowledge of the French language and culture.
 
The University's international research laboratories:
 UMMISCO - Mathematical and Computer Modelling of Complex Systems Unit - Morocco, Senegal, Cameroon, Vietnam
 MAJULAB - Singapore
 EBEA – Evolutive Biology and Ecology of Algae - Chilli
 2B-FUEL - Building Blocks for FUture ELectronics - Korea
 JFLI - Japanese-French Laboratory for Informatics - Japan