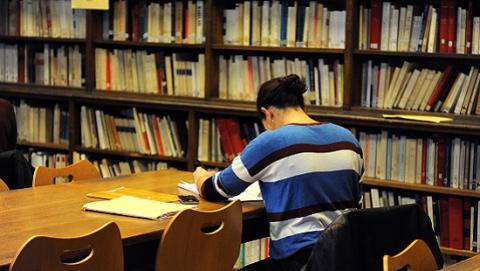 Life as a doctoral student
The doctoral student is a researcher in training. This training is a fully-fledged professional experience within a research unit. Doctoral students are integrated into this professional environment and participate in the life of their research unit. They have the same rights of access to resources as the research staff of their unit. 
Doctoral students carry out, under the scientific direction of his or her thesis director, a research project within a time frame defined when first registering (3 years when full-time). As their work progresses, they gain autonomy and show initiative and creativity. They must regularly inform their thesis director of the progress of their work and any difficulties they encounter. They also learn to position their work in the international scientific context. They participate in discussions with the scientific community and contribute to the life of his doctoral school. 
Doctoral students must draw up an individual course plan, aimed at developing their skills, broadening their scientific culture and international outlook and preparing their career development. Throughout their doctoral training, they build up a portfolio of skills. 
Like all researchers, doctoral students must know and respect, on the one hand, the operating rules of their research unit, in particular health and safety rules which are set out in the bylaws of the research unit, and, on the other hand, the principles of ethics and scientific integrity which apply to all facets of the research activity (the development of knowledge, its dissemination, teaching of students, expertise and evaluation).
Depending on the scientific field, specific regulations must also be known and respected (animal experimentation, use of biological material, clinical research, copyright etc.).
When employed to carry out research activities, doctoral students must be aware of the rights and duties linked to their employment contract, whether under public or private law. Most doctoral students employed by universities and public research organisations have signed a doctoral contract. In this case, doctoral students then have the status of a non-tenured civil servant. As such, they are bound by the obligation of neutrality and perform their duties in accordance with the principle of secularism by refraining from expressing their religious opinions in the performance of their duties.
The fundamental rights and obligations of civil servants
Rules and procedures for health and life at work 
General principles of private law contracts
Doctoral students are represented in several representative bodies, such as laboratory councils, doctoral school councils, faculty councils, the research commission of the academic council, and the commissions of the doctoral college (caesura, commission for the prevention and resolution of conflicts). Their elected representatives are thus able to make the voice of doctoral students heard and participate in the institution's strategic decisions.