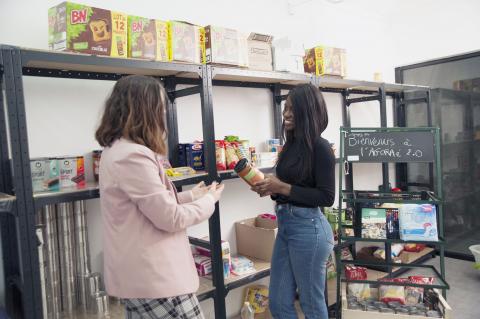 L'AGORAé: a solidarity grocery store in Clignancourt
Thanks to donations from stores in Paris, students in need have access to quality consumer products at very low prices.
At the Francis Croisset CROUS student residence hall on the Clignancourt campus of the Faculty of Arts & Humanities, the AGORAé opens every Wednesday afternoon from 4:30 to 8:30, to improve the lives of students. This project, launched by the local federation of general student associations (FAGE), is carried and developed locally by students. To be able to benefit from the services of this solidarity place, students must complete an application that allows them to determine each student's budget. Nationality, age or scholarships are not included. "We very rarely refuse applications," explains Quentin Hardy, a student at the Sorbonne University Faculty of Medicine and vice-president in charge of the AGORAé de Clignancourt.
"Some students do not dare to apply because the application may seem complicated to fill out, but we are here to help."
However, applying to this service is certainly worth it because it can significantly improve the daily lives of students. When a student spends 10 € in the grocery store, they receive 100 € in goods from a classic business. All the profits are invested in the running of the place, and five people work there (of which four are civil servants). This team has also developed numerous partnerships to gain access to the best possible products, particularly with the supermarket Biocoop or the Food Bank. "Thanks to this solid support, the AGORAé can offer varied and above all high-quality products" specified Fabien Leblanc, a student in sociology at the Sorbonne University Faculty of Arts and Humanities and president of the Paris General Association of Students (AGEP) who manages the AGORAé project locally.
The grocery store is open every Wednesday afternoon from 4:30 to 8:30.
The AGORAé is also and above all a lively place where students can socialise in more than 100 square meters, open to everyone, not just the members of the grocery store. Students can relax, play pool or ping-pong, play board games, and even have a karaoke party or cooking classes. It is also a safe and confidential place to talk about your daily life and find support and tools to cope with difficulties.
The project was made possible thanks to the support of Sorbonne University and the CROUS which hosts it for free. If currently two AGORAés have been created in Paris, at Clignancourt and in the 13th district, there are already 19 AGORAé established throughout France.
The AGORAé is always looking for volunteers to animate the daily life of these grocery stores and student life spaces, so do not hesitate to contact them!