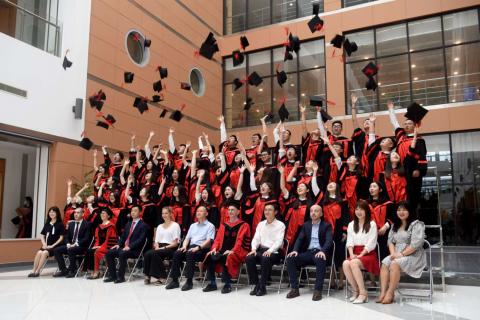 The IFC Renmin celebrates the sixth graduation of Sino-French students
On Monday June 22, 2020, the IFC Renmin held its sixth graduation ceremony on its Suzhou campus, near Shanghai.
Two hundred and eighty three students of the 6th IFC promotion graduated with a double bachelor's degrees, both French (from Sorbonne University, Université Paul-Valery Montpellier 3 or Kedge Business School) and Chinese (from Renmin University of China). Among them were 18 Chinese students who spent a year at Sorbonne University's Faculty of Arts and Humanities in the Applied Foreign Languages.
Alain Tallon, Dean of the Faculty of Arts and Humanities, addressed the students with a pre-recorded speech, in which he recalled that "universities are transmitters of culture" and asked the new graduates to be, in turn, "the Ambassadors of France in China and of China in France."
The majority of the new graduates will continue their Master's studies in the French partner institutions and a new class of bachelor's students will be recruited—as is every year—after the national university entrance exam (the Gaokao) in the coming weeks.
 
About the IFC Renmin 
Created in September 2012 and located in Suzhou, the Sino-French Institute of Renmin University of China is a Sino-foreign institute for university cooperation in the fields of humanities, economics and social sciences.
Renmin University of China is ranked the top Chinese university in business management, public management, economics, law, communication, statistics and sociology.
Within the framework of the IFC, it is associated with three founding French partner institutions:
Sorbonne University,
University Paul Valéry Montpellier 3,
Kedge Business School.

The IFC Renmin's goal is to educate successful trilingual Chinese specialists in the fields of finance, economics, management, applied foreign languages and humanities. Its students are recruited among the country's brightest profiles in the national university entrance exam (top 2%). With its 40 resident French-speaking teachers and 1,200 students, the IFC Renmin represents the largest Franco-Chinese collaboration in these fields.