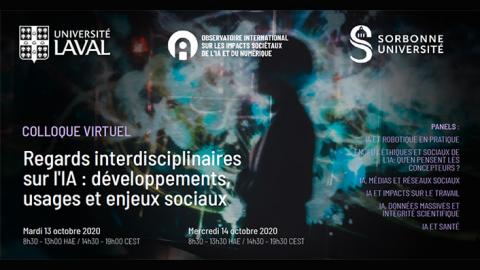 Virtual workshop - Interdisciplinary perspectives on AI: developments, uses and social issues [in French]
On Tuesday and Wednesday the 13th and 14th October, Sorbonne University, Laval University and the International Observatory on the Societal Impacts of AI and Digital Technology (OBVIA) will hold an interdisciplinary virtual workshop on the developments, uses and social issues of AI (in French).
Over two afternoons, researchers from Laval University and Sorbonne University will present six themes, from robotics to ethics, health, work, scientific integrity and social networks. 
Sophie D'Amours, rector of Laval University and Jean Chambaz, president of Sorbonne University will introduce the event. Jean-Gabriel Ganascia, president of the CNRS ethics committee for Sorbonne University, will then open the conference on 13th of October. The closing presentation at the conference on 14th of October will be presented by Jocelyn Maclure, president of the "Commission de l'éthique en science et en technologie du Québec" (Commission on Ethics of Science and Technology of Quebec) at the University of Laval. These presentations will offer a Franco-Quebecois perspective on the developments, social issues and uses of AI.  
This workshop marks the first major step in the strategic partnership between Sorbonne University and Laval University, which centers on both institutions' commitment to society. 
The workshop will be conducted in French and is open to the public upon registration. 
PROGRAM
Tuesday 13th October 2020
Opening - 2:30 pm CEST (8:30 am EDT)
Panel 1 - AI and robotics in practice - 15h30 CEST (9h30 EDT)
Panel 2 - AI, ethics and societal issues - 17:00 CEST (11:00 EDT)
Panel 3 - AI, media and social networks - 18:00 CEST (12:00 EDT)
End of day one - 19:00 CEST (13:00 EDT)
Wednesday 14 October 2020
Panel 4 - AI and impacts on work - 3:30 pm CEST (8:30 am EDT)
Panel 5 - AI, big data and scientific integrity - 2:30 pm CEST (9:30 am EDT)
Panel 6 - AI and Health - 16:45 CEST (10:45 EDT)
Closing - 17:45 CEST (11:45 EDT)
End of day two- 7:30 pm CEST (1:30 pm EDT)
Contact
Florian Lebret
International Partnerships and Projects Manager at the Department of International Development of Sorbonne Université